Morristown, TN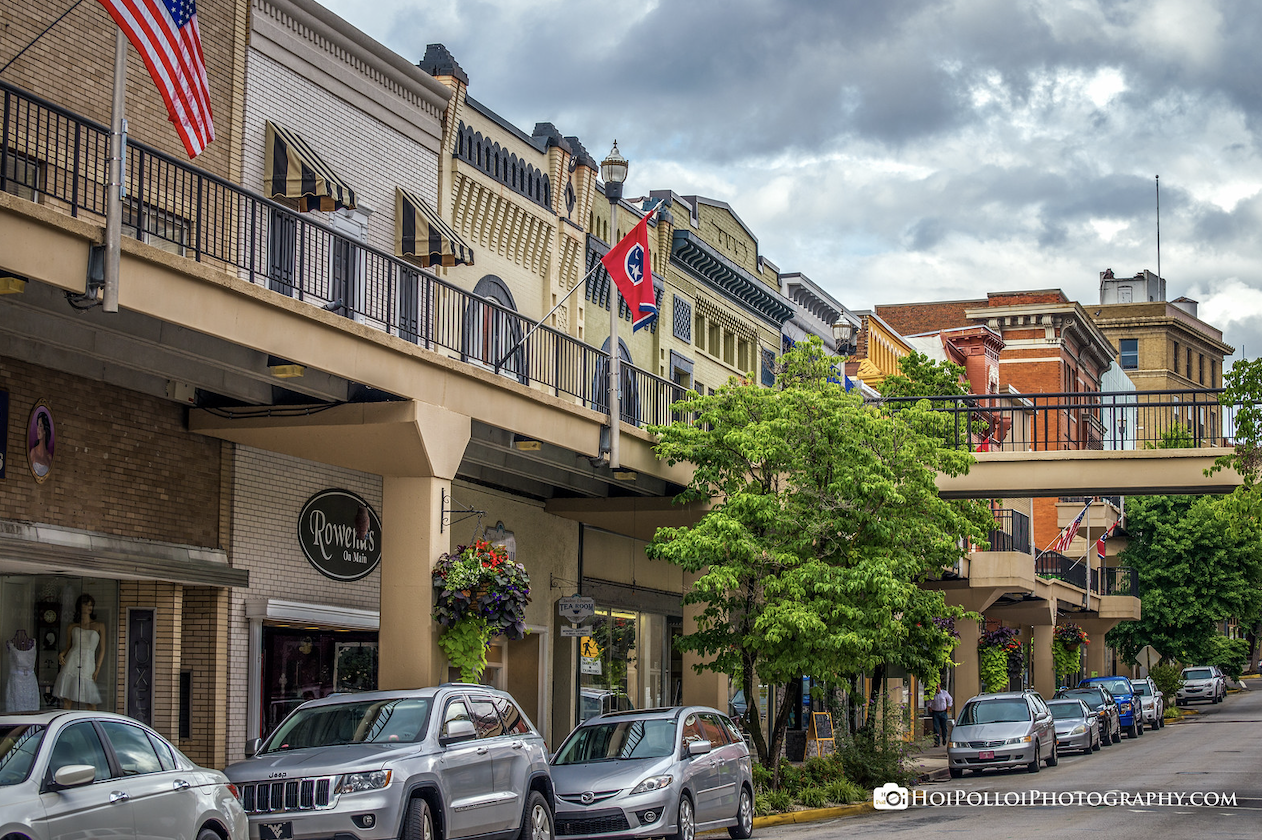 Anchored by the Farmers Market Pavilion and Downtown Green to the south and the historic Rose Center for the Arts to the north, Morristown's historic district is home to a diverse variety of specialty, antique, clothing and gift shops, restaurants, service businesses, and the seasonal farmers' market. Here at Morristown, You'll find the Concert on the Green series at the Downtown Green on the first Friday of the months of May-September. Multiple food trucks, craft beer sales, and the Night Market showcasing regional artisans selling their creations add to the festive atmosphere of the evening.  
Housed in the historic Rose School building, Rose Center for the Arts is the artistic and cultural hub of the Lakeway Area. With its rotating monthly art exhibits, a multitude of classes, and special musical events, the center has been providing cultural education and opportunities for the area for almost 50 years. Their gift shop featuring the work of regional painters, fiber artists, jewelry makers, and wood turners, to name just a few, is the perfect place to find that one-of-a-kind item.  You'll find the award-winning Mountain Makins festival taking over the grounds and building on the 4th weekend in October. Named the Best Festival in the Southeast, it showcases the very best of Appalachian folk-life culture with a multitude of artisans and crafters, entertainment, and delicious food.
Morristown
Listed on the National Register of Historic Places, Main Street showcases the city's past and present. Featuring the nation's only overhead sidewalk system, the Sky Mart. Completed in 1967 as part of an urban renewal project, the Sky Mart provides locals and visitors alike with a unique sense of place. It's not an unusual sight to see families, bridal parties, prom-attendees, and others posing for photographs on the Sky Mart.
Down below on Main, you'll find a wide variety of shopping and dining options. Old Town Variety Mall, Vintage This 'n That, Country Boutique, and Cooper's Variety Mall all house an eclectic mix of antiques, vintage clothing, furniture, and hand-made items. Your creativity can find a home at the Pink Pig where you can try your hand and their pottery wheel, make a decorative door hanger, or a seasonally themed painting. Toadily Studios is where you can make your own scented candles. Gigi's on Main, Rowena's, and Backstage Gifts all offer unique gift items and home goods. If you happen to have a four-legged friend, be sure to pick-up a homemade treat for them at Barkery Tails, a one-of-kind pet boutique and bakery.
Dine where the stars go at the Little Dutch Restaurant, which has attracted its fair share of stars for more than 80 years from golfing greats Arnold Palmer and Tom Watson to actors Harrison Ford and Calista Flockhart, whose parents live in the area. The Timeless Elegance Tea Room evokes the genteel ambiance of Southern charm. Though the menu does have traditional tearoom fare, you can also enjoy stick-to-you-ribs offerings like chicken and dumplings. 
Celebrating its second year in operation is 1907 Brewing Company, offering a wide selection of craft beers, ciders, wine and craft sodas. Grab some pub grub from one of the downtown food trucks and enjoy one of 1907's trivia nights, music events, or themed parties.
Whether you've come to Morristown to visit Panther Creek State Park, Cherokee Lake, or play one of their four disc golf courses, don't leave before enjoying this charming downtown.