Sheridan's Culinary Scene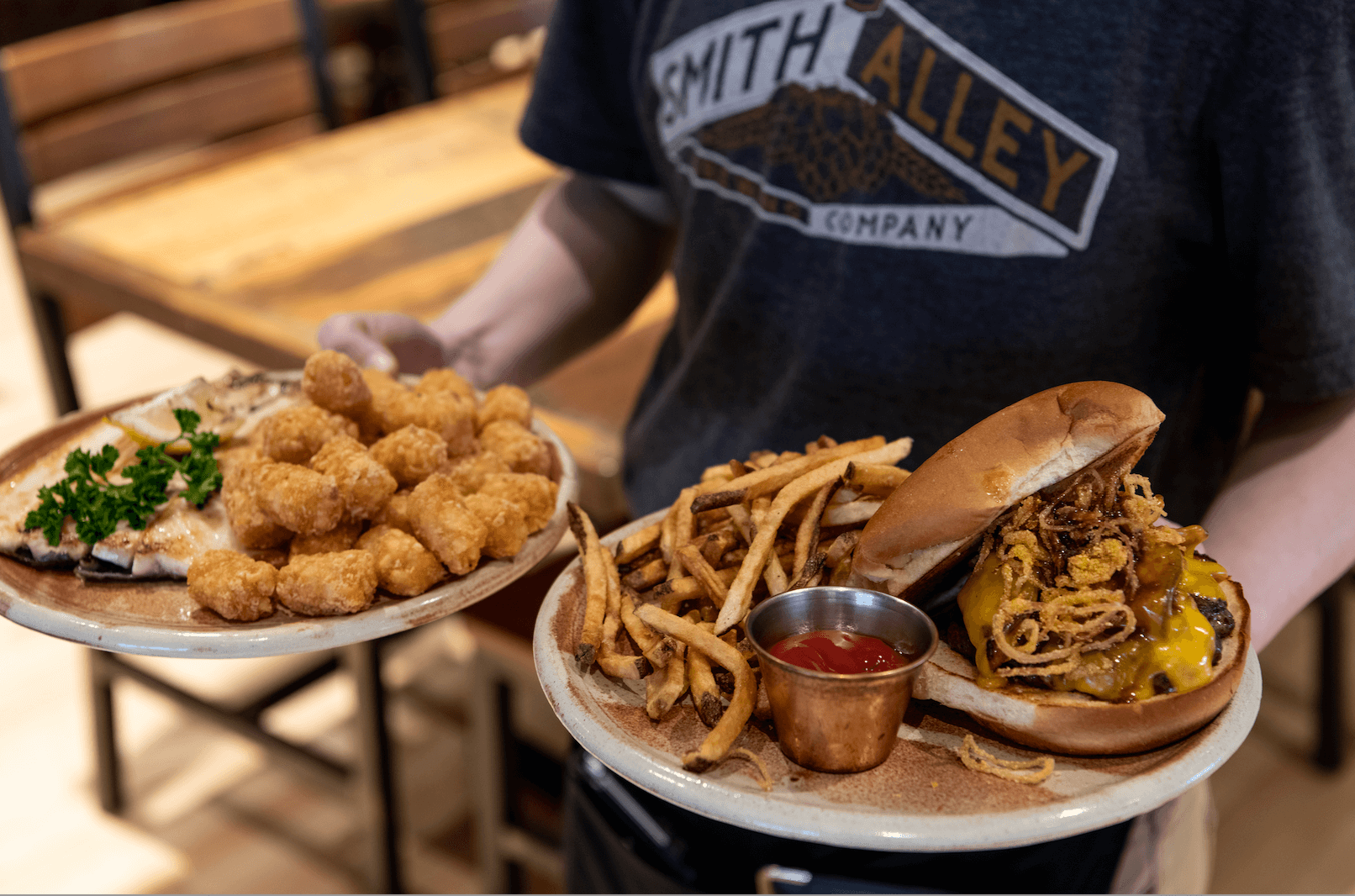 By Shawn Parker
Sheridan's culinary scene is having a moment. Out here in northern Wyoming, in the heart of the great state's cattle country, you will find restaurants serving up some of the finest cuts of steak you have had in your life. Staple establishments like the Rib & Chop House carve up cowboy-quality tenderloin filets, while Sackett's Market offers every cut a grill master can imagine, perfect for those among us who love to go rustic with a fire up on the mountain. These, and other kitchens, have begun working with a local start-up called Truly Beef, owned and operated by Cathryn and Taylor Kerns, whose rangeland heritage is tethered to the Double Rafter Ranch, homesteaded in the 1880s.
Yet gastro bliss in Sheridan County goes beyond the beef. Rising culinary stars have moved into the mountains, and their hitching posts have quickly become beloved by the outlaws and icons of the west. Uptown Shabby has brought a fresh, whimsical vibe downtown, and dishes absurdly inventive combinations that have no business being as delicious as they are, like the monkey burger (1/2 lb. patty, mozzarella, bananas, spinach, onions, peanut butter, served on a cinnamon croissant), and the French BLT (bacon, lettuce, tomato, avocado, red onion, maple mayo on homemade French toast).
When most folk think craft, they think of beer, wine, and spirits – and so it follows that Sheridan is home to three breweries, a distillery, a winery, and a namesake brew that was recently reintroduced to the world (thank you, Sheridan Beer Co.). But Sheridan County is more than an ale tale – we're home to culinary hotspots like Cottonwood Kitchen + Home, The Tasting Library, and Verdello; each host engaging cooking classes and regular tastings. 
Black Tooth Brewing
Black Tooth Brewing has garnered critical acclaim since it opened in 2010. Banners from national competitions hang throughout the tap room, and you would be hard pressed to find a bar or restaurant within a hundred miles that isn't serving at least one BTB brew. Black Tooth has become one of the largest breweries in Wyoming, growth spurred by a fundamental dedication to producing top-quality beer with the finest possible ingredients.
The original Kolts Fine Spirits, established in 2001, released the hand-crafted Koltiska Original Liqueur, followed by KO 90, each an embodiment of the spirit of the American West. In early 2016 Kolts Fine Spirits became the Koltiska Distillery, and the company opened a production facility and tasting room that offers old favorites, new products, and craft cocktails inspired by more than 100 years of local family lore.
One of the finest brewery secrets in the American West, Luminous Brewhouse is a purveyor of malty gold that has carved out a niche as a bespoke brewer of unique beers. The Luminous taproom is always rocking with live music and is frequently charged by special event energy, and features a dazzling array of brews, sure to please suds-o-philes and craft newbs alike.
Down the block in the cozy hamlet of Big Horn, you'll find the Just Ledoux It Steakout & Saloon, formerly the Last Chance Saloon, so named as it sits at the base of one of the most notorious mountain roads in
the Bighorns. The Last Chance was a beloved hideaway of author Ernest Hemingway (he called it a "clean, well-lighted place").
Arrowhead Lodge
In days past, our trio of mountain lodges – Bear Lodge, Elk View Inn, and Arrowhead Lodge – were remote outposts where weary travelers would bed down on the long road between Yellowstone National Park and Mount Rushmore. Since the pandemic exposed Wyoming's legacy of generational social distancing, the lodges have become rustic retreats for folks from across the nation. Indeed, the ideal of Wyoming as a safe space during the madness of 2020 has served to showcase the rich culinary tradition of local cookeries. 
Mydland Market
Welcome Market Hall transformed the historic bones of a 19th century rail depot into a gastronomic concourse that you'd expect to find in a city like Austin or Fort Collins. Mydland Market is reviving the concept of the neighborhood pub with its location on the north side of town, a place better known for its sweeping mountain vistas and pastoral graces. The Warehouse Gastro Pub is the latest addition to our culinary scene, and it is quickly garnering a reputation as a chill hangout spot serving elevated contemporary marvels. 
Travelers heading to Sheridan will find sensational pub grub at the likes of The Pony Grill & Bar (try the Bomber Mountain wings, made with local craft ale), and Smith Alley Brewing Co., which serves up pub classics. Breakfast is beautiful business at the 100+ year old PO News and Flagstaff Café, the cozy Silver Spur Café, and the Cowboy Café, where only the adventurous dare to take a stab at the elk and bison breakfast skillet.
And what would any self-respecting foodie town be without a bustling food truck armada? Rumors persist that there are more food wagons in our fair town, per capita, than anywhere in the US. There's great diversity in the scope of what's for sale, with southwest and Mexican inspired Bonafide, WYO Thai's classic southeast Asian cuisine, and Hetty's Pizza's wood-fired pies. The local food truck scene is booming, with outfits like Java Gypsy, Pete's Za, the Burger Wagon, Cannoli Bliss, and El Rodeo conjuring culinary wizardry daily. 
Across the county, from Clearmont to Dayton, you'll find wonderful little restaurants and unique eateries. Gallery on Main in Dayton does art and tapas the way it should be done, while Ranchester's Buckshot Saloon is one of our go-to spots for a burger before we head up the mountain. Innominate Coffeehouse & Bakery has a relaxed atmosphere that's perfect for unwinding after a long road trip, while the Parkman Bar & Grill serves what just might be the best burger in Wyoming – how's that for a hot take?
See what we're saying? Sheridan County is one seriously crafty place. There's a good chance that when you walk around downtown, the hat on that guy's head, the beautiful dress that lady is wearing, and the beer those friendly folk are drinking were all hand-crafted right here in Sheridan, Wyoming, USA.