Salt Life – Live Salty!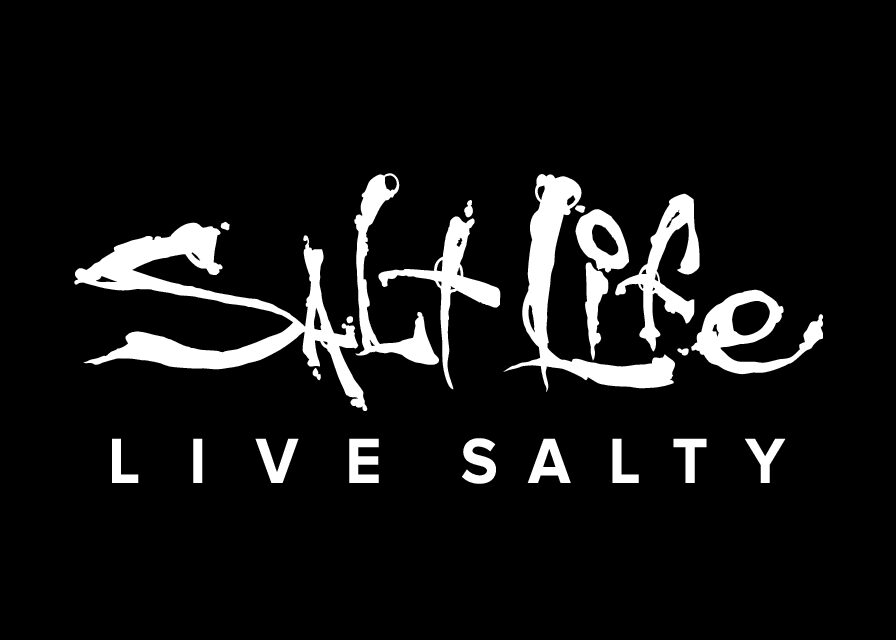 Salt Life originated as a decal brand in Jacksonville, Florida in 2003. Twenty years and millions of satisfied customers later, the brand is more than just a logo; it represents a passion for the ocean, the salt air, and most importantly, a way of life.
Salt Life embraces everyone who shares a passion for the ocean lifestyle. Whether you're a fan of fishing, diving, surfing, or simply relaxing on the beach, Salt Life has the gear to help you make the most of adventures on and around the water. The brand is loved by professional fishermen and women, full-time watersports athletes, and everyday beachcombers alike.
Salt Life's website, Instagram, Facebook, and YouTube serve as a one-stop shop for saltwater inspiration of all kinds—from how-to videos demonstrating the best way to clean your catch to tropical destination travel guides. In addition to knowledgeable beach tips and travel advice, the brand also helps its audience experience the salty way of life like a pro through its Charter Captain, Surf Instructor, and Dive Instructor Directories. These interactive maps allow consumers to plan their dream day on the water fishing, surfing, or diving with brand-verified guides.
In 2021, Salt Life launched the Above and Below podcast to take a deeper dive into their favorite ocean-centric activities. Hosted by Salt Life team member and professional surfer, Kieran Anderson, the weekly podcast explores different aspects of the Salt Life with an expert on the subject. Whether Kieran and guests are discussing the best places to catch a gnarly wave, what type of equipment to use to target big fish, or best practices for diving into crystal clear waters with a speargun, listeners can expect entertainment and education with each episode.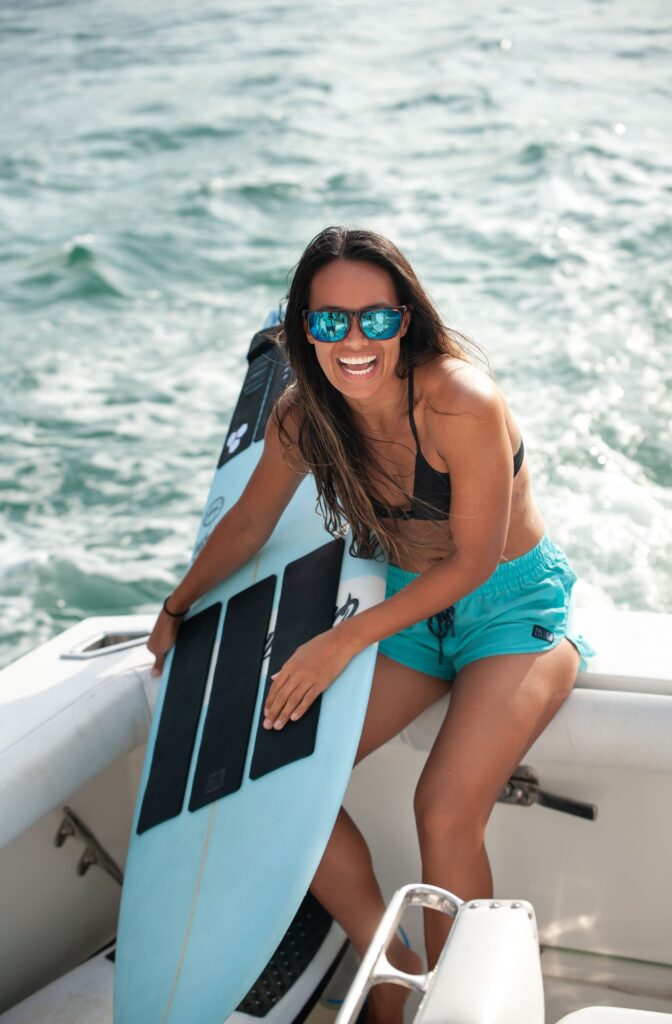 Salt Life takes pride in not only celebrating the ocean but also protecting it. Through the SALT LIFE GIVES BACK initiative, they have joined with organizations that strive to protect the ocean and its inhabitants through conservation efforts and sustainability programs. The brand hopes that these contributions inspire future generations to continue to live the Salt Life and help protect the world's oceans.
Salt Life products are available to consumers at www.saltlife.com and in surf shops, specialty stores, department stores, and sporting goods retailers, as well as at Salt Life's various branded retail stores.
Read Also: Calling All Nature Lovers – Okeechobee is Waiting For You!
In 2012, Salt Life's total retail footprint came in at under five thousand square feet. In 2023, the brand will offer consumers over fifty-five thousand square feet of retail space, spanning eight states, with locations on Gulf, Atlantic, and Pacific coasts. Last year alone, Salt Life opened seven new retail stores in key coastal markets. 2022 openings include four storefronts in Florida: Sarasota, Fort Lauderdale, Boca Raton, and Jupiter, as well as locations in Foley, Alabama, Hilton Head, South Carolina, and Rehoboth Beach, Delaware. Pembroke Pines opened earlier this month, with Pompano Beach and Long Branch locations following later this spring. These new additions will bring the brand's total store count to twenty-four. The brand's flagship store is in Jacksonville Beach, Florida, where the term "Salt Life" was coined over 20 years ago.
Product Recommendations
Stay covered and protected from the sun in the Women's Into the Abyss performance hoodie! Features include a chest and sleeve screen printed logo, moisture wicking and antimicrobial properties, UV 30 sun protection, and mega soft quick reaction fabric. Available in an all-over print design, this Salt Life hoodie is perfect for casual wear and layering during transitioning weather.
The Men's Hole in the Wall boardshort is made from SLX-QD 4-way Vapor stretch fabric with an allover underwater print by photographer Shawn Jackson. Features include a side pocket with a solid flap, piler pocket, anti-rash performance interior, and more! This Salt Life boardshort provides a garment that is quick drying and comfortable for all-day surf sessions.
Ambassador Spotlights
Emmanuel Williams specializes in offshore fishing from a Sea-Doo jet ski! He targets species such as wahoo, tuna, mahi, and bottom-dwelling species such as snowy grouper and golden tilefish. The type of fishing Emmanuel does is unconventional, but that's what makes it so special.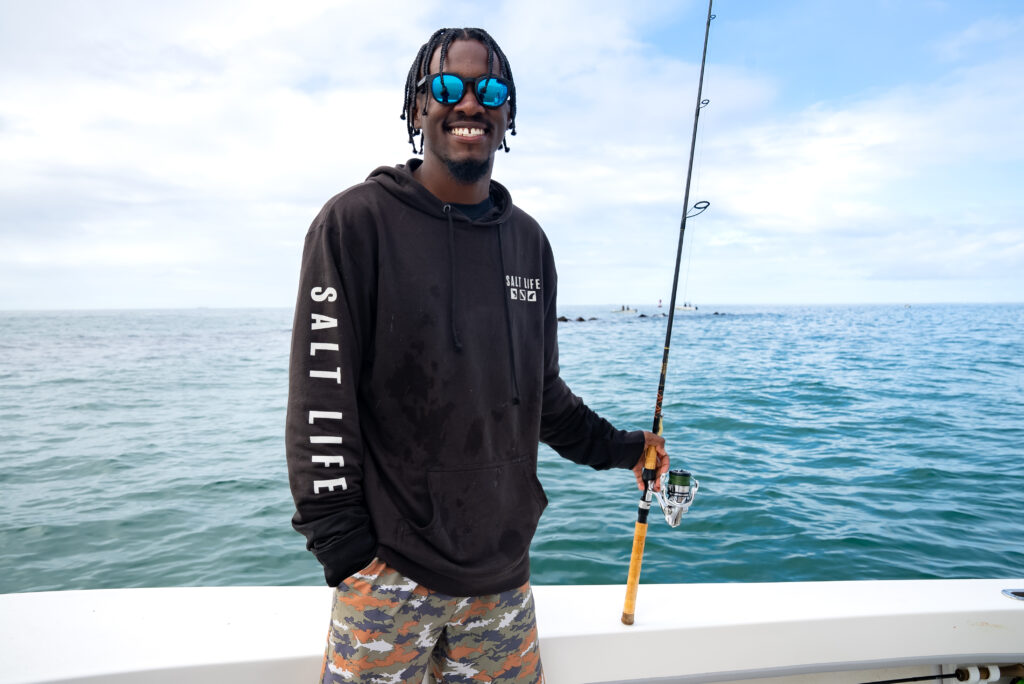 Born in California, raised in Florida, it's safe to say freediver and spearfisherwoman Stacey Baker was born into the Salt Life. Stacey grew up learning the traditional Filipino ways of preparing fish from her mother; whose favorite meals have always been from the sea. Stacey attributes her ocean obsession to her upbringing, but says it shifted into overdrive when she met her husband – fittingly, on the beach. Being the waterman he is, their first dates started with him teaching her to surf and spearfish, rocketing her ocean addiction to the next dimension. Stacey currently holds the women's IUSA world record for gag grouper at 13.5lbs.