Visit Hardy County, WV Come Wander Our Country Roads!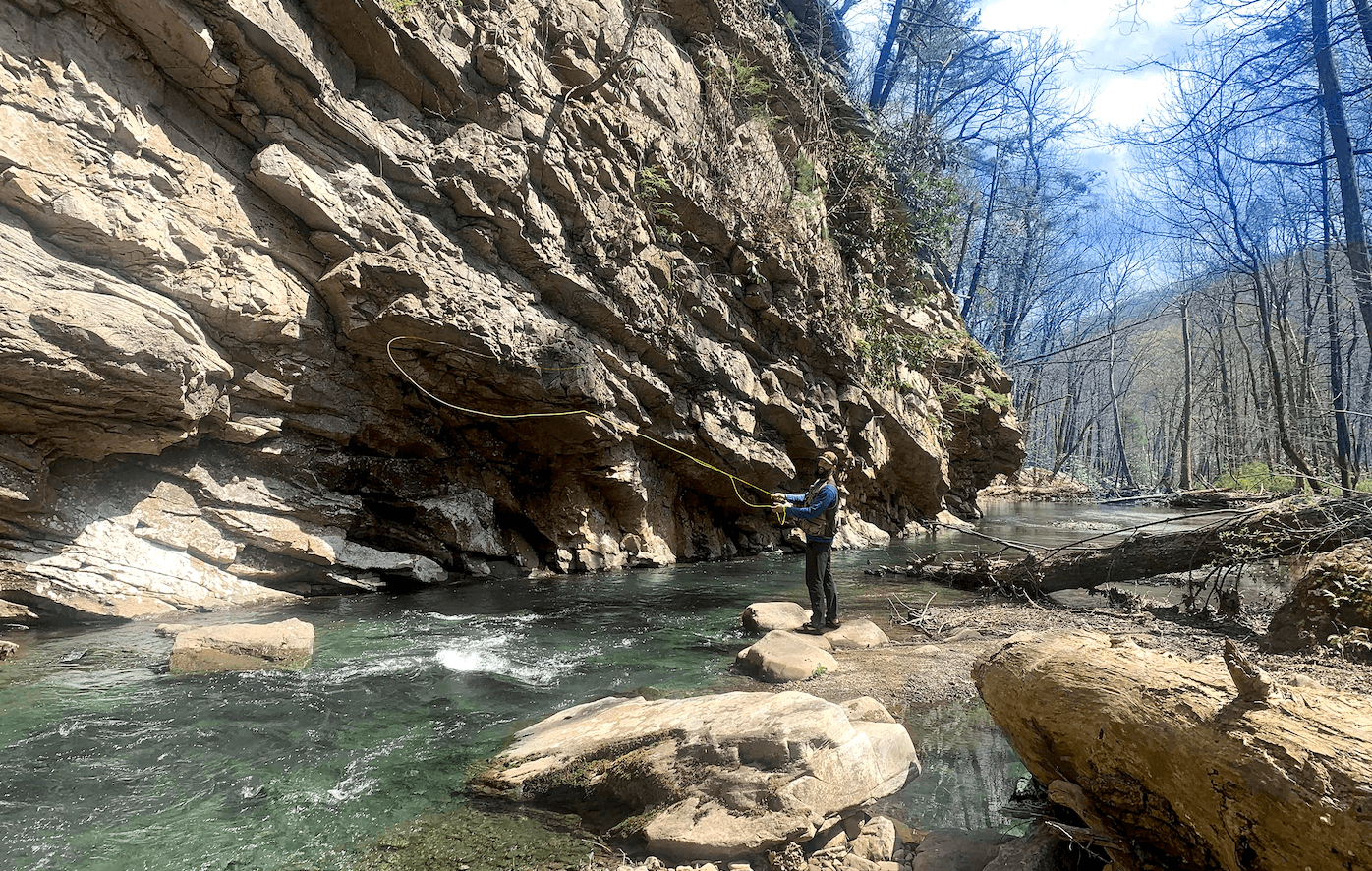 Rivers, Runs and Lakes
Hardy County's rivers, stocked lakes, and mountain runs offer some of WV's best fishing. Rent a canoe or kayak at Breezewood Adventures to see The Trough, an isolated 6-mile gorge on the South Branch of the Potomac River where bald eagles soar overhead. The South Fork is a seasonal float and fishing river, and Lost River disappears underground to become the Cacapon. Trout Pond Recreation Area is home to the 17-acre Rock Cliff Lake and Trout Pond, while diminutive, is West Virginia's only natural lake.
Hiking, Biking, and Horseback Riding
Visit Lost River State Park and the impressive Cranny Crow Overlook. Hike the trails through the historic park or experience them on horseback with a guide from Hidden Trails Stables. In nearby George Washington National Forest hike or bike the trails to spectacular mountain vistas. Join Lost River Trails Coalition for their Lost River Trail Run in May and Lost River Classic Gravel Ride in August.
In Town and Out
In Moorefield, tee-off at Valley View Golf Club or visit West-Whitehill Winery for a tour and tasting. See performances at McCoy's Grand Theater, the latest movie at South Branch Cinema 6, or go bowling at Potomac Lanes. Pick pumpkins and strawberries at Buena Vista Farm or buy locally grown produce and beef at one of the many farm markets across the county. Visit Dakota Glass to see glassblowing demonstrations, and WordPlay, an independent bookstore in Wardensville, or explore Lost River Artists Marketplace, South Fork General Store, Lost River General Store, Our Roots, and Lost River Trading Post, for WV-made products, artwork and crafts, antiques, made-to-order food, and beverages.
Explore Our History and Yours
Travel our country roads to see the Hardy County Barn Quilt Trail. Download TheClio.org app and follow the Hardy County Historic Schoolhouse Trail. The Civil War Trails markers identify many historic sites in the county and the local museums, festivals, and parades celebrate our rural heritage.
Read Also: Great Ways to Get Your Steps in While Visiting Dickson County
End your day with dinner and live music at Mullins 1847 or Lost River Grill, dine by candlelight at the Guesthouse, enjoy a steak at O'Neill's, or a burger at Better Times, while you plan your next day's adventure.
So, Visit Hardy for the day, but plan to spend the night! There are plenty of adventures left over to keep you busy the next day and the day after, too.
HCCVB Website: https://visithardywv.com
HCCVB Facebook and Instagram: https://www.facebook.com/VisitHardy/
Links to above:
Breezewood Adventures: https://www.breezewoodadventures.com
Trout Pond Recreation Area: https://www.recreation.gov/camping/campgrounds/232162
Lost River State Park: https://wvstateparks.com/park/lost-river-state-park
Hidden Trails Stables: http://www.hiddentrailsstableswv.com
Lost River Trails Coalition: https://www.facebook.com/groups/lostrivertrailscoalition
George Washington National Forest: https://www.fs.usda.gov/recarea/gwj/recarea/?recid=77721
Valley View Golf Club: http://www.valleyviewgolfwv.com
West-Whitehill Winery: https://www.westwhitehillwinery.com
Buena Vista Farm: https://www.facebook.com/buenavistafarm/
Farm Markets: https://visithardywv.com/eat-drink/farmers-markets/
McCoy's Grand Theater: https://www.facebook.com/mccoysgrand/
South Branch Cinema 6: https://www.southbranchcinema6.com
Potomac Lanes: https://www.potomaclanes.com/copy-of-about-1
Lost River Artists Marketplace: https://www.lostrivercrafts.com
South Fork General Store: https://www.facebook.com/profile.php?id=100057410201954&ref=py_c
Lost River General Store: https://www.innatlostriver.com/lost-river-general-store
Lost River Trading Post: https://www.lostrivertradingpost.com
Our Roots: https://www.facebook.com/ourrootswv/
Dakota Glass: https://www.facebook.com/dakotaglassworks/
WordPlay: https://www.facebook.com/wordplaywv
Mullins 1847: https://www.facebook.com/mullins1847/
Lost River Grill: http://lostrivergrill.com/
Guesthouse Lost River: https://www.guesthouselostriver.com/
O'Neill's: https://www.facebook.com/ONeills-126217577398997
Better Times: https://www.facebook.com/BetterTimes2016/
Hardy County Barn Quilt Trail: https://www.lostrivercrafts.com/barn-quilt-trail
Hardy County Historic Schoolhouse Trail: https://theclio.com/tour/2295
Civil War Trails: https://www.civilwartrails.org/docs/WV_PDF-mapguide.pdf
Hardy County: https://visithardywv.com