Hannibal, MO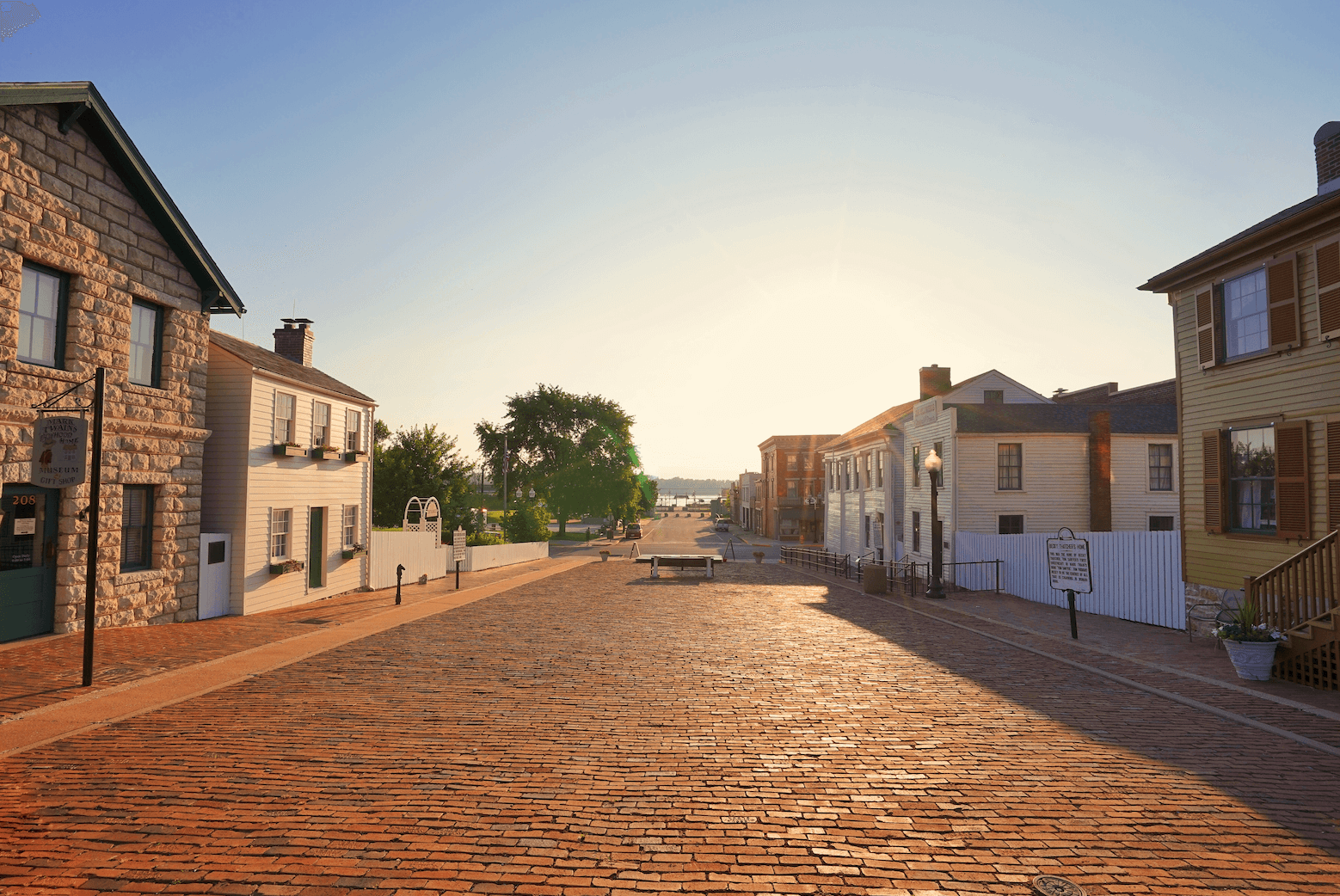 Hannibal, Missouri is a must-stop for history buffs. Samuel Clemens, known around the world as author and humorist Mark Twain, used Hannibal as the setting for some of his most famous books, including The Adventures of Tom Sawyer and Adventures of Huckleberry Finn. Growing up in a small river town on the banks of the Mississippi River, Samuel Clemens used his experiences to craft the beloved stories still read around the world.
Unlike so many authors, Twain tells us the inspiration for his characters. For example, Twain tells us that Tom Sawyer's sweetheart, Becky Thatcher, was based on Laura Hawkins, who grew up right across the street from a young Sam Clemens. In Hannibal, you can walk through the actual buildings where the people once lived, people now immortalized in Twain's novels. The Mark Twain Boyhood Home and Museum in historic downtown Hannibal  includes two museums and five historical buildings, allowing visitors to literally walk in Twain's footsteps as they learn more about the people behind Twain's beloved characters and about the author himself.
The Adventures of Tom Sawyer
In Hannibal, Twain's inspiration is everywhere. A short drive from Historic Main Street lies Mark Twain Cave, the cave in which young Sam Clemens played as a child; it plays a pivotal role for the characters Tom Sawyer and Becky Thatcher in The Adventures of Tom Sawyer. In 2019, Sam Clemens signature was discovered in the cave, and is now part of the tour, which is full of fun anecdotes and history. While it may seem strange that the signature was only discovered in 2019, once you walk down "Autograph Alley" and see over 200,000 signatures in the cave dating back to 1819, it's obvious why it was so difficult to locate one signature!
You can also cruise on the Mighty Mississippi in Hannibal and imagine Clemens' riverboat piloting days on the Mississippi River. In fact, Clemens' pen name, Mark Twain, comes from a riverboat term meaning safe water. The Mark Twain Riverboat will take you on a one hour sightseeing cruise where you can learn about river history and lore or a relaxing two hour dinner cruise to enjoy a leisurely evening on the Mississippi.
Read Also: The Benefits of Traveling: Why You Should Travel More
While Hannibal is known for Twain, fans of history will find even more to enjoy. In the summer, the Molly Brown Birthplace is open for tours, inviting you to learn more about the rags to riches tale of Margaret Tobin Brown of Titanic fame.
Historic Main Street is filled with locally-owned shops, galleries, and restaurants, inviting you to spend some time strolling and enjoying the views just a block from the Mississippi.
In short, Hannibal is the perfect place to dive into America's rich history and enjoy a memorable getaway.