Harvesting Happiness/ Fall in Georgia's Apple Capital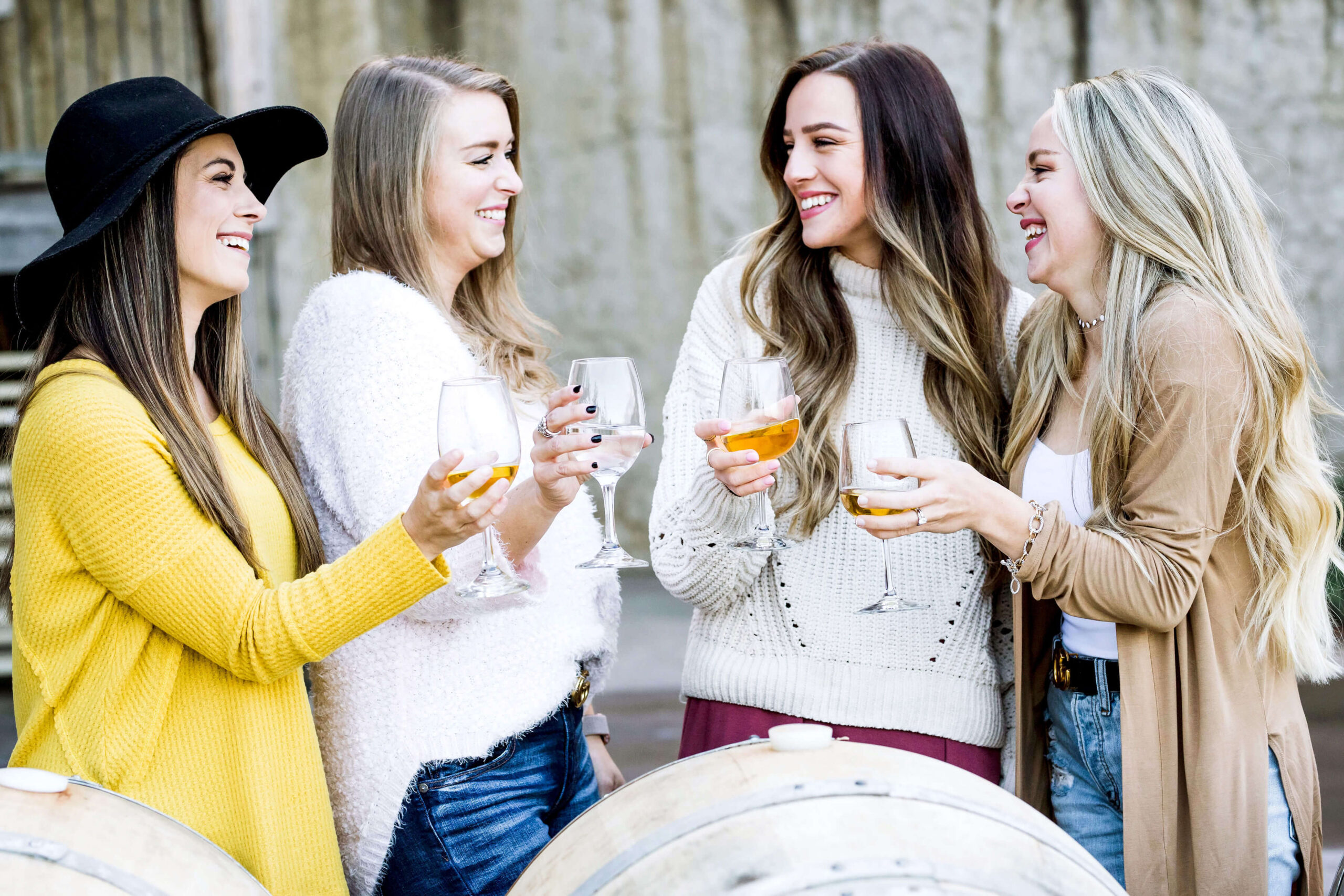 There are few feelings that surpass the peace you experience when watching the sun rise over the fog-dappled Southern Appalachians on a crisp morning. Fall is a season that is easy to celebrate, and people have been flocking to the mountain town of Ellijay, Georgia for generations to do just that. Just 90 miles north of Atlanta, this Appalachian Trail community feels a world away.
Ellijay's agricultural roots run deep and offer all who visit a taste of life less complicated. Every Fall, the Apple crop attracts those looking to pick their own apples for homemade favorites like apple pie, applesauce, and apple butter. The nine local orchards and apple houses serve up fresh-made treats like apple cider donuts and offer bushels and pecks of apples to those not looking to pick their own.
Reece's Cider Co
Those who grew up picking apples with their family every Fall will be delighted to know that the apple tradition has grown up with them. New for 2021, Reece's Cider Co. is owned and operated by Taner and Sarah Reece and offers first-class cider in a laid-back brewery atmosphere. The Reece's are no stranger to the apple industry—Taner's grandfather is the namesake of the beloved B.J. Reece Orchards. Reece's Cider Co. is the first to bring crisp, bubbly hard cider to Ellijay and their flagship creation–Ellijay Apple–has set the bar high.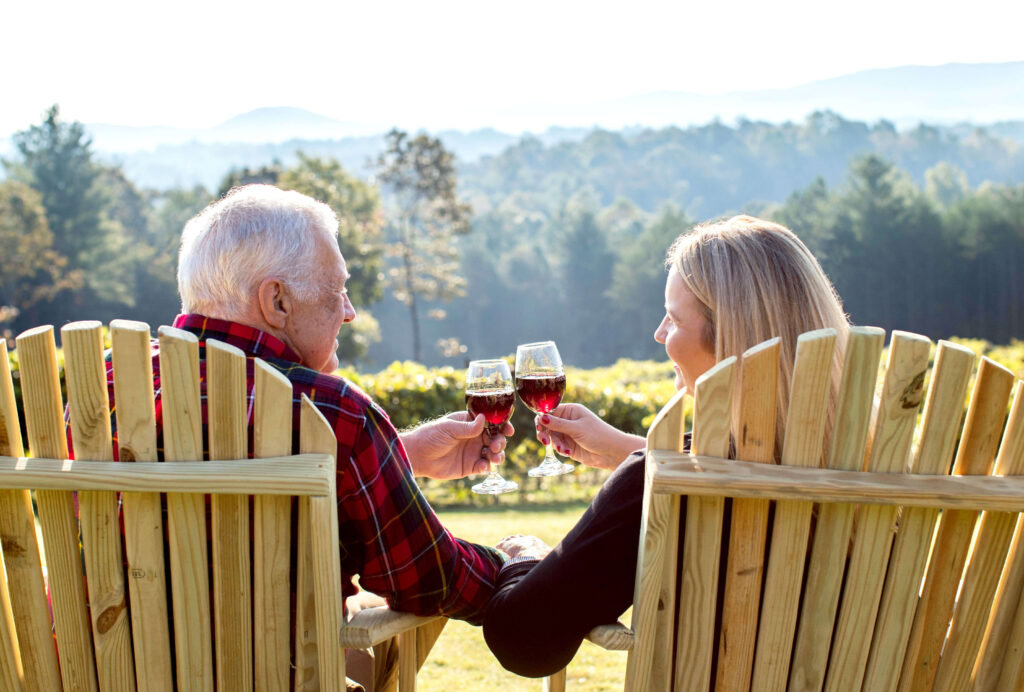 Although Ellijay has been known for its' bustling apple industry for years, the temperate climate, rich soil, and elevation range have made these mountains and valleys perfect for another high-yield crop: grapes. Over the last decade, what started at Cartecay Vineyards as one vineyard sitting above a historic barn has grown into an entire industry. Ellijay is now home to seven vineyards and counting. Each vineyard comes with their own distinct atmosphere. Buckley Vineyards feels like a homecoming with its wines named after the Buckley family's ancestors. Grapes & Ladders brings a boutique wine tasting experience to the area's West side. Chateau Meichtry's ever-expanding property feels like you have been transported to a farm on the French Countryside. 
The wholeness and simplicity of country living weaves its way in and out of the Ellijay experience. In town, the commitment to locally sourced ingredients is evident. The Roof serves up dishes like their Blue Oyster Mushroom Ragu Meatloaf with mushrooms from Ellijay Mushrooms while offering gorgeous panoramic views of fall color. Ellijay Wood Fired Pizza's Meatball Parma is made with locally sourced beef & pork.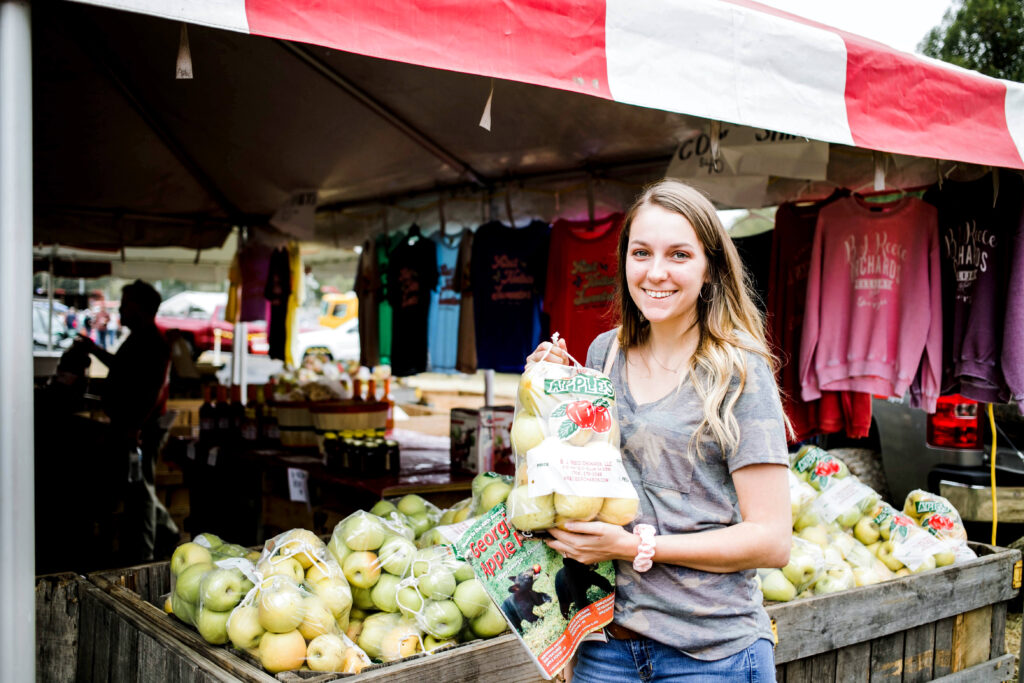 Outside of the city's center, winding scenic roads carry travelers to even more delicious destinations. Georgia Grown markets like Mountain Valley Farms store are the perfect place to pick up cheeses, cured meats, and jellies for that perfect autumn picnic in the mountains. Those looking for a quintessentially fall experience can retreat to Red Apple Barn where they can pick their own flowers and choose the perfect pumpkin to carve from the pumpkin patch. Markets like Penland's Apple House and Panorama Orchards offer a wide variety of apples for those looking for a more low-key orchard experience. 
Georgia Apple Festival
Ellijay loves sharing the fruits of their bounty with anyone wishing to come and celebrate this season. On the second and third weekend every October, the Georgia Apple Festival (which is celebrating its 50th anniversary this year) celebrates the community's agricultural heritage and all things Fall with events like a 5k, a parade, and an arts and crafts festival.
The rejuvenating energy that permeates every aspect of Fall in Ellijay is best experienced for yourself. All you have to bring are your coziest clothes and an appetite for adventure.