Welcome to Albuquerque – Heart of New Mexico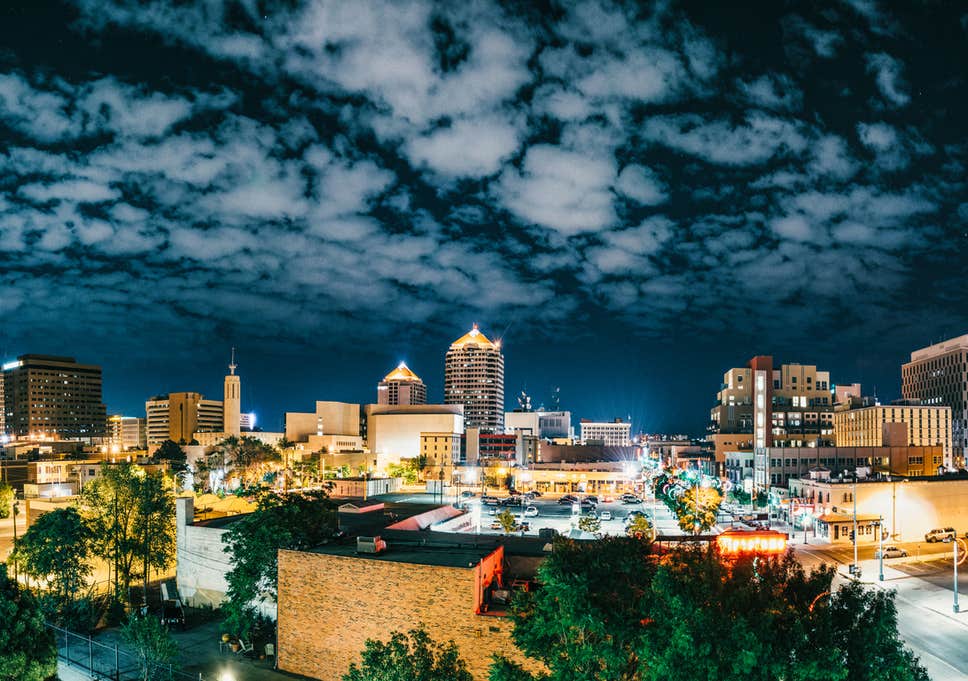 At the heart of New Mexico beats the pulse of a vibrant city. In Albuquerque, diverse cultures, authentic art and dynamic traditions have helped shape our centuries-old story. No matter your interests, the city has countless opportunities for you to explore. Sample traditional New Mexican cuisine that takes minutes to make and hundreds of years to prepare, experience world-class museums, stroll along Central Avenue under the vintage neon glow of Route 66, or soar high above the city in the hot air ballooning capital of the world — a sight sure to change your perspective.
Albuquerque Tour
Immerse yourself in our painted skies, abundant space and more than 310 days of sunshine, which make it possible to ski the slopes of the Sandia Mountains and play a round at one of our award-winning golf courses, all in the same day. Albuquerque is an oasis in the high desert, full of rich history and inspiring ideas. Plan your trip today, and leave Albuquerque viewing your own world in a whole new light.
Looking for an interesting way to experience Albuquerque? Guided Albuquerque tours are perfect for people who want to see all the sites but have limited time in the city.
Tour the city by trolley, bus, Segway or jeep, or take a walking tour. Customize your tour topic to focus on photography, nature, culture, history or ghosts.
Take a day trip to explore the Jemez Mountains, Santa Fe, Taos, Acoma Pueblo or another New Mexico destination. Or try a scenic train ride. Albuquerque is the perfect home base for touring the region.
EXPERIENCE PRESENT DAY ROUTE 66
NOB HILL
Historic Nob Hill best embodies the vintage spirit of Route 66 in Albuquerque. Glowing with neon lights, unique and modern dining options, and abuzz with bars and nightlife, the Nob Hill neighborhood offers a classic Route 66 experience.
Fun fact: Nob Hill turned 100 years young just a few years ago, in 2016! Click here to watch a short documentary on Nob Hill's history.
UNIVERSITY AREA
The University of New Mexico (UNM) portion of Route 66 significantly overlaps with Nob Hill, but is worth mentioning as a distinct area. Catering mostly to students, Central Avenue between Girard and I-25 is bold and energetic. Packed with affordable eateries, bike lanes, and late-night coffee shops, come here to get an espresso jolt or to feel old among 20-somethings. Be sure to buy a Lobo t-shirt!
DOWNTOWN
Downtown Albuquerque, which expands along Central Avenue from 1st Street to 12th Street, is the home to exciting revitalization blended with historic preservation. In addition to a remodeled convention center, Route 66 Downtown is home to a variety of trendy cafes and restaurants, as well as historic venues such as the KiMo Theater.
HISTORIC OLD TOWN
Old Town, the original city center, still operates as hub of culture in Albuquerque. The Old Town corridor of Route 66 includes some of the Albuquerque's most popular attractions, a major one being the ABQ BioPark. Our BioPark facilities are consistent crowd pleasers for family fun and outdoor activities, which encompasses the Zoo, Aquarium, Botanic Garden, and Tingley Beach (yes, we have a beach in Albuquerque).
Read Also: Tips to Remember on Your Alaska King Salmon Fishing Trip
Old Town is also home to many of Albuquerque's renowned museums, such as the New Mexico Museum of Natural History and Science, Explora, the Albuquerque Museum, and the Rattlesnake Museum.
Dining in along this stretch of Route 66 comes highly recommended, especially if you're looking for authentic New Mexican cuisine.