Cody Yellowstone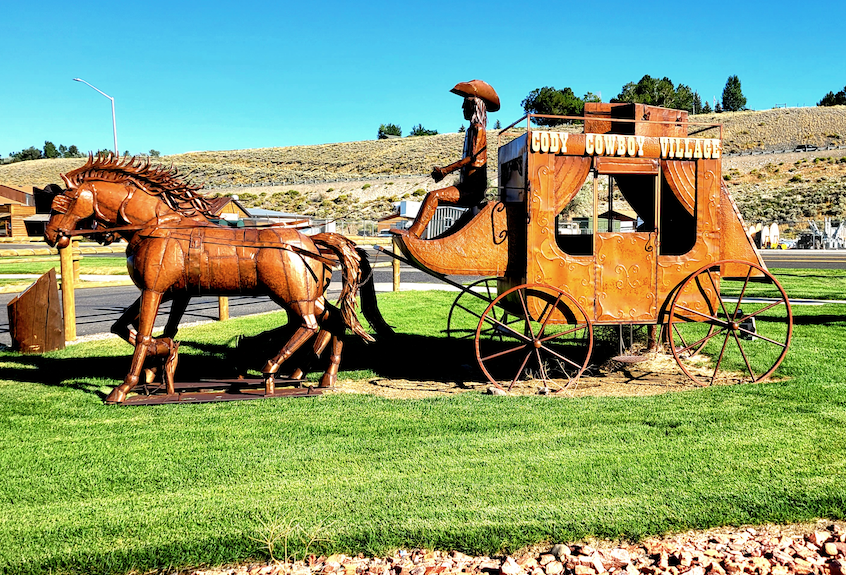 If you're searching for an outdoor adventure like no other, look no further than Cody Yellowstone. This unforgettable destination offers visitors a front-row seat to winding rivers, sweeping vistas, untamed wilderness, and historic charm. Here, the spirit of the legendary showman and town namesake, Colonel William F. "Buffalo Bill" Cody, is alive and well — from lovingly preserved historic properties to the myriad of memorable activities that bring you up close and personal with the rugged landscape of northwestern Wyoming.
Surrounded on all sides by stunning wilderness, it's easy to imagine that a trip to Cody Yellowstone means roughing it in the backcountry. But while the area boasts many scenic spots to pitch a tent and camp for the night, there are also ample options for those who prefer their accommodations infused with more creature comforts.
In the heart of downtown Cody, the Irma Hotel boasts a selection of historic and contemporary guest rooms — not to mention some of the best prime rib in town! Named for the daughter of Buffalo Bill and affectionately dubbed "The Grand Old Lady of Cody", this Victorian-style hotel opened in 1902 and is listed on the National Register of Historic Places. Guests will be charmed by turn-of-the-century details, from elaborate wallpaper and intricate millwork to sumptuous carpeting and antique furnishings.
the Chamberlin Inn
A stone's throw away on neighboring 12th Street, the Chamberlin Inn is a must-stay for history buffs and literature lovers. The hotel, which once played host to Ernest Hemingway, boasts one-of-a-kind guest rooms, show-stopping grounds, and the inviting Spirits Lounge. Pull up a barstool and enjoy an evening of live music and crafted cocktails, including local favorites like the Yellowstone Mule and literary-themed Death in the Afternoon. Shiplap walls, overstuffed sofas, and gracious furnishings make guests feel as though they've stepped back in time, while contemporary amenities like complimentary high-speed internet, in-room Nespresso coffee machines, and flatscreen televisions ensure that modern comforts are always within reach.
With accommodations this unique and inviting, you might be tempted to spend your days luxuriating behind closed doors. That is until you glimpse all the natural beauty, wild country, and spectacular scenery waiting for you outside.
The West is famous for its big sky — and there's no better place to take to the skies than here in Park County. Try your hand at powered hang gliding with Airborne Over Cody, where you can take in all of the stunning scenery from an altitude of 3,000 feet. All flights are done with a certified FAA flight instructor and are open to aviators of all skill levels, from experienced pilots to first-timers. You can even take control of the aircraft (if you're bold enough) and snap a few pictures to immortalize your moment of daring from the glider's onboard camera.
Mountains, Valleys, Woodlands
Cody Yellowstone spans nearly 7,000 square miles of mountains, valleys, woodlands, and trails, most of which are inaccessible by paved road. Hiking, kayaking, and mountain biking are all popular ways to explore the land, but of course, no mode of transportation is more classically Cody than horseback. Hit the trails and harness your inner cowboy on a wilderness backcountry tour with one of the area's many guest ranches or horseback riding concessionaires, and experience the Wild West as generations before you have.
Looking to satisfy your need for speed? Experience Cody Yellowstone's vistas on an off-roading ATV or OHV adventure. Built to traverse rough terrain, these rugged vehicles are perfect for exploring our trails, from beginner-friendly McCullough Peaks to the challenging Clarks Fork Canyon. For a truly unforgettable experience, hit the (off) road for the town of Kirwin. One of the country's best-preserved ghost towns, Kirwin was once a bustling mining community, complete with a saloon, hotel, and sawmill. The town was abandoned after a devastating avalanche in 1907, leaving behind the haunting, vacant timber buildings you see today.
Nearby, explore the remains of Amelia Earhart's cabin — originally intended as her summer home before being abandoned in 1937 when the famous aviator vanished over the Pacific. Today, the remains of the half-built structure can still be seen amidst the spectacular mountain scenery that first made Earhart fall in love with Park County.
The end of any outdoor excursion calls for a toast, so head back into town and visit WYOld West Taproom for a nightcap. Just around the corner from the Irma and Chamberlin on historic 13th Street, the taproom serves a menu of tasty bar bites alongside craft beers brewed on-site. Try a pint of their flagship Heart Mountain Hefeweizen, take in the lively atmosphere, and raise a glass to a Wild West adventure you won't soon forget.
From historic interiors to the great outdoors, nothing beats a getaway to Cody Yellowstone. Learn more and start planning your Great American Adventure at CodyYellowstone.org or by calling 1-800-393-CODY.