10 FALL COLOR DRIVES IN MINNESOTA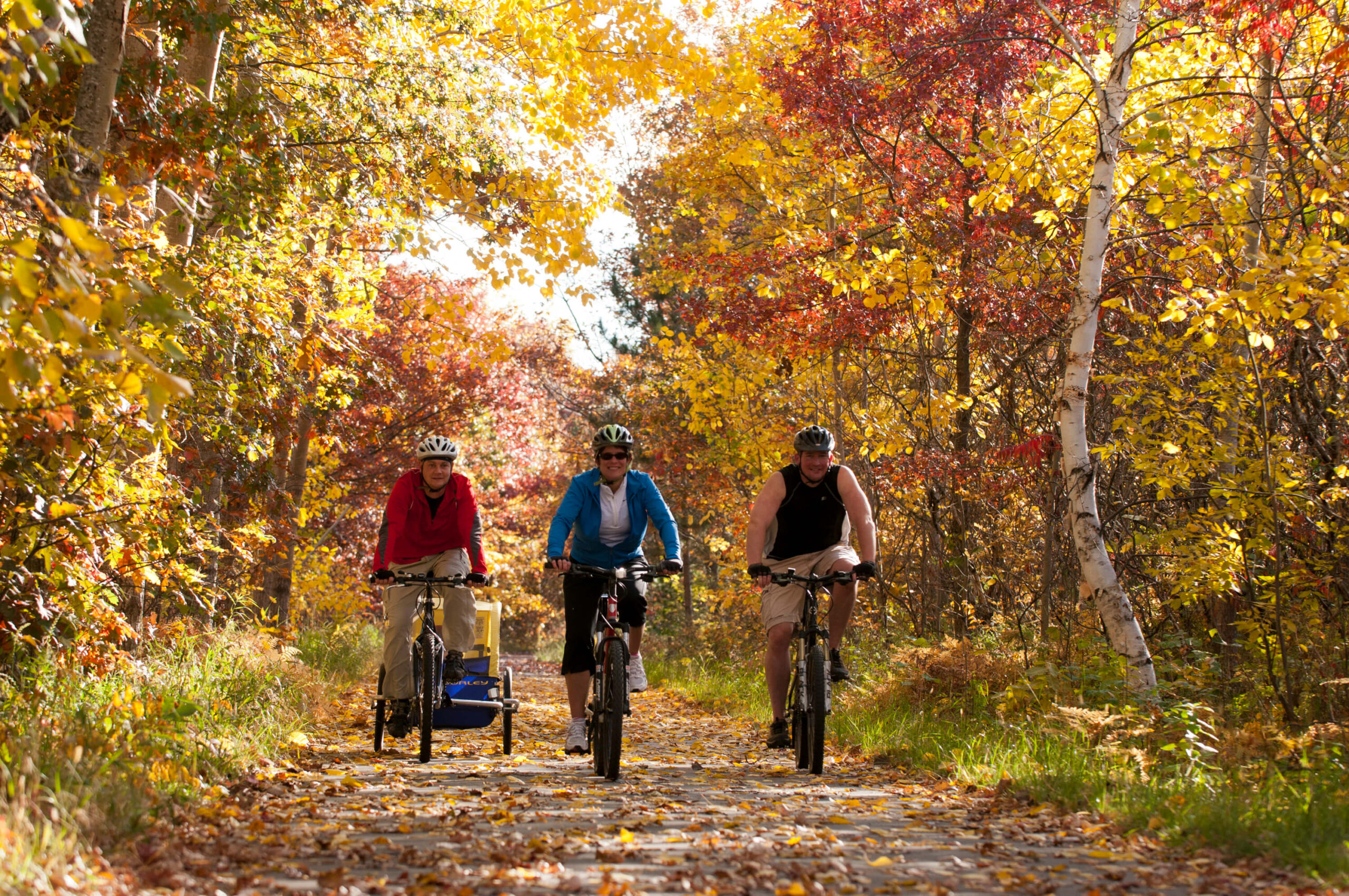 There's no better place to peep fall color foliage than Minnesota. Here is a hit list of rainbow-tinged routes for your next road trip, from primetime paths to out-of-the-way overlooks.
1. NORTH SHORE OF LAKE SUPERIOR
Yellow aspen and birch hug the shoreline along America's largest Great Lake, while scarlet maples line inland forest roads. This route is one of only 15 "All-American Drives" recognized for outstanding scenery so make sure you have a reservation for any overnight stays or try planning midweek trips to avoid busy travel periods. For an inland view, take Hwy. 1 through the colors of the Superior National Forest to Ely.
Route: HWY. 61, Duluth to Grand Portage
Peak Color: Mid-Sept. to early Oct.
2. IRON RANGE LOOP
There's a beautiful mix of color on this circle drive and plenty of other highlights, including birding at the Sax-Zim Bog, two major golf courses at Giants Ridge (The Legend and The Quarry), ATVing at the Iron Range Off-Highway Vehicle Recreation Area, and the U.S. Hockey Hall of Fame in Eveleth. At Virginia, there's an overlook of the area's deepest open pit mine and the popular Mesabi Bike Trail.
Route: HWY. 169 from Virginia to Tower, HWY. 135 through Biwabik back to Virginia
Peak Color: Mid-Sept. to early Oct.
3. EDGE OF THE WILDERNESS
This scenic byway winds over hills through a colorful mix of pine and hardwoods within the Chippewa National Forest. Return via Co. Rd. 7 and make a side trip to Scenic State Park. Or take one of the back roads through the forest, with stops at lakes and hiking trails along the way.
Route: HWY. 38, Grand Rapids to Bigfork
Peak Color: Mid-Sept. to early Oct.
4. MISSISSIPPI HEADWATERS
Itasca State Park — the source of the mighty Mississippi River — is the star attraction on this route. Lake Bemidji State Park's birch and pine trees are another highlight. There's a paved bike trail in Itasca, and mountain bike trails in Bemidji State Park. You'll also find scenic biking along the nearby Heartland State Trail.
Route: HWY. 71 between Park Rapids and Bemidji
Peak Color: Mid-Sept. to early Oct.
5. OTTER TAIL COUNTY
The rolling countryside between Fergus Falls and Perham is a blend of wooded hills, lakes, and farmland. Highlights include Glendalough State Park, the historic Phelps Mill, and the view from Inspiration Peak off Co. Rd. 38.
Route: HWYS. 108 and 78, and numerous county roads
Peak Color: Late Sept. to early Oct.
6. BRAINERD LAKES & MILLE LACS
Gull, Pelican and Cross Lakes and the Whitefish Chain of Lakes sparkle amid woods of maple, oak, birch and aspen. Mille Lacs Kathio State Park is an expanse of colorful forest at the edge of Mille Lacs. Fishing, boating, golfing and biking the Paul Bunyan State Trail are leading activities in this lake country.
Route: HWY. 371 and 6, and the county roads between them, plus HWY. 169
Peak Color: Late Sept. to early Oct.
7. ST. CROIX RIVER VALLEY
The scenic St. Croix River winds through wooded hillsides and sheer cliffs. Wild River and William O'Brien state parks feature great river views. The charming towns of Stillwater, Taylors Falls and Afton have numerous antique and gift shops. Boat excursions on the river are a great way to see the fall color.
Route: HWY. 95 from Taylors Falls to Afton
Peak Color: Late Sept. to mid-Oct.
8. TWIN CITIES TOURING
Few major cities can boast such beautiful drives, especially in the fall. Along the Grand Rounds Scenic Byway, circle four different lakes — Bde Maka Ska, Harriet, Nokomis and Lake of the Isles — and visit Minnehaha Falls. The Lake Street Bridge and Ford Parkway Bridge have great views of the Mississippi surrounded by colorful, wooded hillsides. St. Paul's tree-lined Summit Avenue is bordered by stately homes.
Route: Parkways around Minneapolis lakes, along Minnehaha Creek, Mississippi and Summit Avenue
Peak Color: Late Sept. to mid-Oct.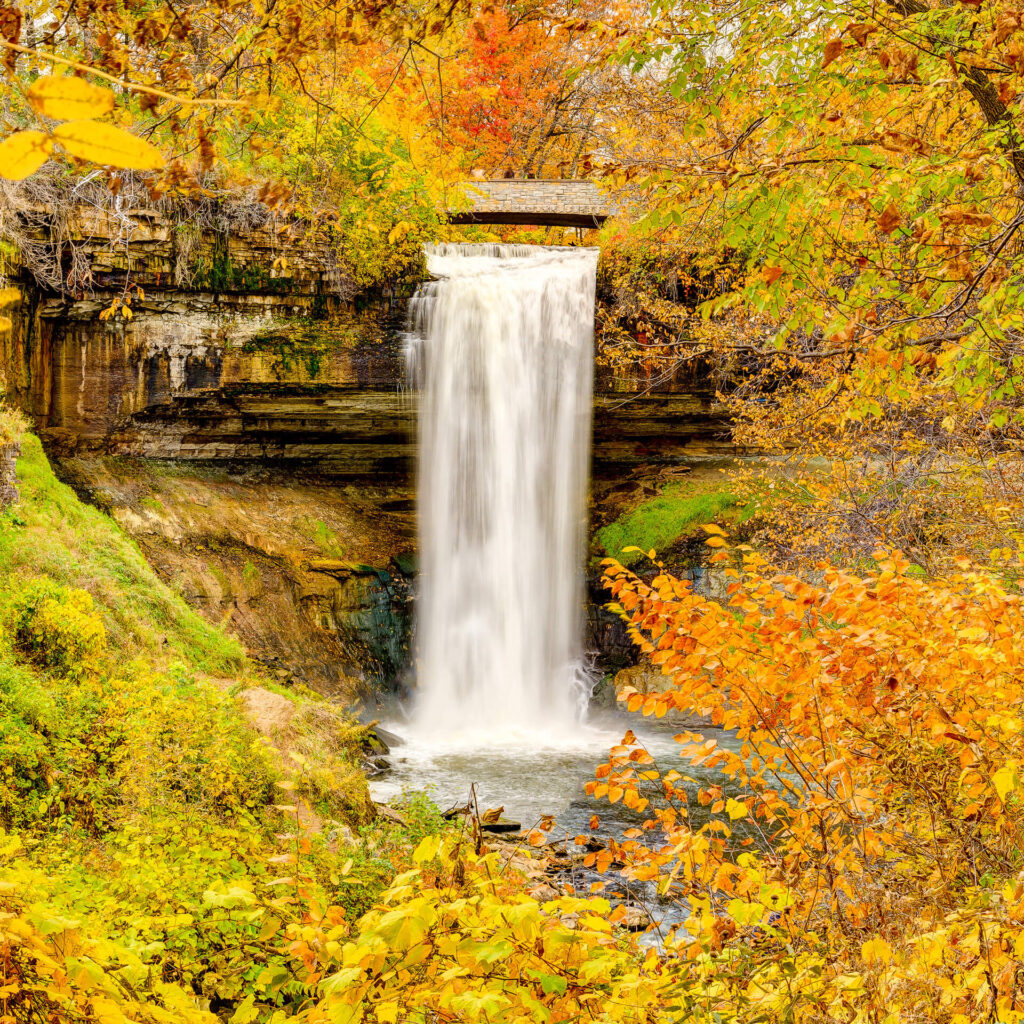 9. MISSISSIPPI RIVER VALLEY
This colorful route of charming river towns and wooded bluffs is characterized by steep hillsides dressed in brilliant autumn hues of red, russet and gold. Several scenic overlooks, including at Frontenac and Great River Bluffs state parks, are must-stops. You'll also find several roadside apple stands for a tasty afternoon snack.
Route: HWY. 61 between Red Wing and La Crescent
Peak Color: Mid-Oct.
10. MINNESOTA RIVER DRIVE
Follow the bend in the river, and the ribbon of yellow and gold hardwoods that borders the Minnesota River. Along the way, you'll find riverside parks in Le Sueur, St. Peter, Mankato and New Ulm, as well as bluff-top overlooks in New Ulm.
Route: Co. Rd. 6 and HWY. 93 from Belle Plaine to Le Sueur, then HWY. 169 to Mankato, then HWY. 68 to New Ulm
Peak Color: Late Sept. to mid-Oct.
For more fall adventures in Minnesota, visit exploreminesota.com.