Dubois County, IN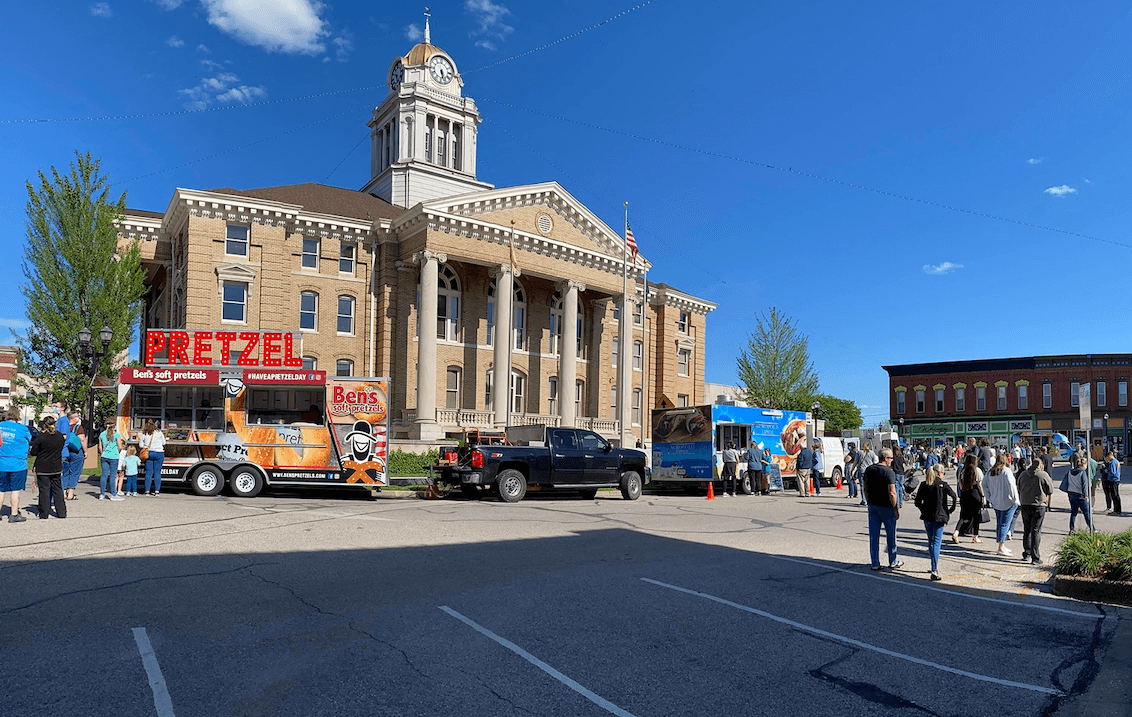 In the rolling hills of Southern Indiana, a train whistle can be heard in Dubois County, Indiana as the conductor shouts, "All Aboard!" The Spirit of Jasper Train is about to leave for one of its many excursions, such as the Chocolate, Wine, and Dinner ride, where a great memory is about to be made. In Dubois County, it is easy to create many lasting memories and adventures.
The three main towns of the county – Ferdinand, Jasper, and Huntingburg – invite visitors to spend the day exploring, shopping, eating, and more. With small town charm, Dubois County can be your complete getaway, offering historic attractions, family fun, and entertainment.
Within the county limits, historians will love to find the 20 churches that are over 100 years old with most on the National Register of Historic Places, one of which resides in Ferdinand with the Monastery Immaculate Conception. Founded in 1867, the Monastery Immaculate Conception, also known as the "Castle on the Hill," is known for its Romanesque architectural style dome and home to one of the nation's largest communities of Benedictine women. Adjacent to the gift shop and on the monastery grounds, stop in St. Benedict's Brew Works. With the mantra of "Pray, Work, Brew," be sure to enjoy the rotating beer menu with cleverly named ales and porters, plus enjoy some delicious pizza. It's not every day you find a brewery on the grounds of a monastery, but that just goes to show the uniqueness of Dubois County.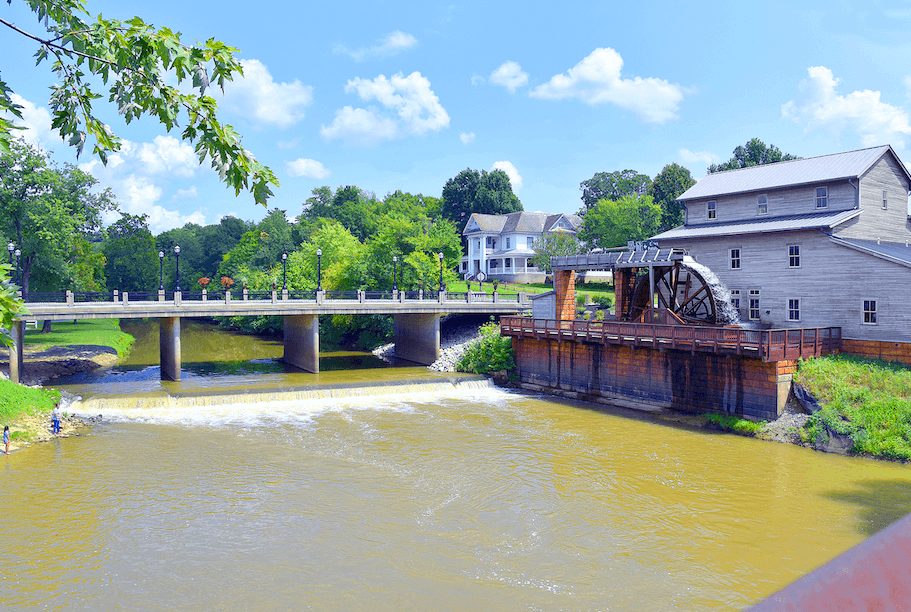 Huntingburg Historic 4th Street is also on the National Register of Historic Places. Originally destroyed by a fire in 1889, 4th street has been restored to its original Victorian era splendor. This historic street offers more than two dozen locally owned stores for visitors to shop unique gifts, home décor, and antiques. Also, delicious food options are available at one of the six different unique eateries, including Chop'D, an ax throwing venue with some great burger options. In this area, Market Street Park hosts multiple music festivals and events on the backside of the historic Old Town Hall.
Huntingburg, Indiana's claim to fame are the three movies filmed in the small town. Less than a mile from the historic 4th street, stop in at League Stadium which was featured as the home field for the Rockford Peaches in the filming of, "A League of Their Own," starring Tom Hanks and Geena Davis. Stand in the same place as Tom Hanks as he told Bitty Schram's character Evelyn Gardener that there was "no crying in baseball…" Original advertisements from the film still remain along the outfield fence. In June and July, the collegiate baseball team, the Dubois County Bombers, take the field in retro-styled uniforms, which the "peaches" entertain the crowd in costumes replicated from the movie. The other two movies filmed in Huntingburg were "Hard Rain" and HBO's "Soul of the Game"
Shopping will continue in Ferdinand with a large antique emporium and a few shops. Downtown Jasper hosts a large variety of specialty and eclectic shops in the area around the courthouse square. Also in the heart of Jasper, multitude of attractions await your arrival with the Spirit of Jasper Train and Depot, High Pointe Rooftop Venue, Astra Theatre, Thyen Clark Cultural Center / Art Gallery, Jasper City Mill, Schaeffer Barn and Alexander One Room School House, Puzzles and Padlocks Escape Room, Jumping Jasper (arcade and inflatables), HTK Airsoft (the country's largest indoor airsoft campus), and the nationally-renowned Schnitzelbank Restaurant – just to name a few
Outdoor opportunities are available, including the 8,800-acre Patoka Lake and its recreation area, featuring boat rentals, fishing, hiking, bird watching, wine and dinner cruises, swimming, and more. Be sure to grab the "Dubois County Walking Paths" guide to explore the many trails throughout Dubois County. For golfers, be sure to tee off at Sultan's Run, a national award-winning golf course.
In Dubois County, the people open their arms to visitors and share their passion for hospitality. Just a short drive from Evansville and right next to Holiday World and Splashin' Safari, Dubois County welcomes all and invites visitors to explore the county's heritage, attractions, and events.
Contact Visit Dubois County to plan your visit by calling 812.482.9115, emailing [email protected], or visiting the website visitduboiscounty.com. Your next adventure awaits… create a memory today.