Explore Eagle Season where the Mother Road of Route 66 meets the Great River Road.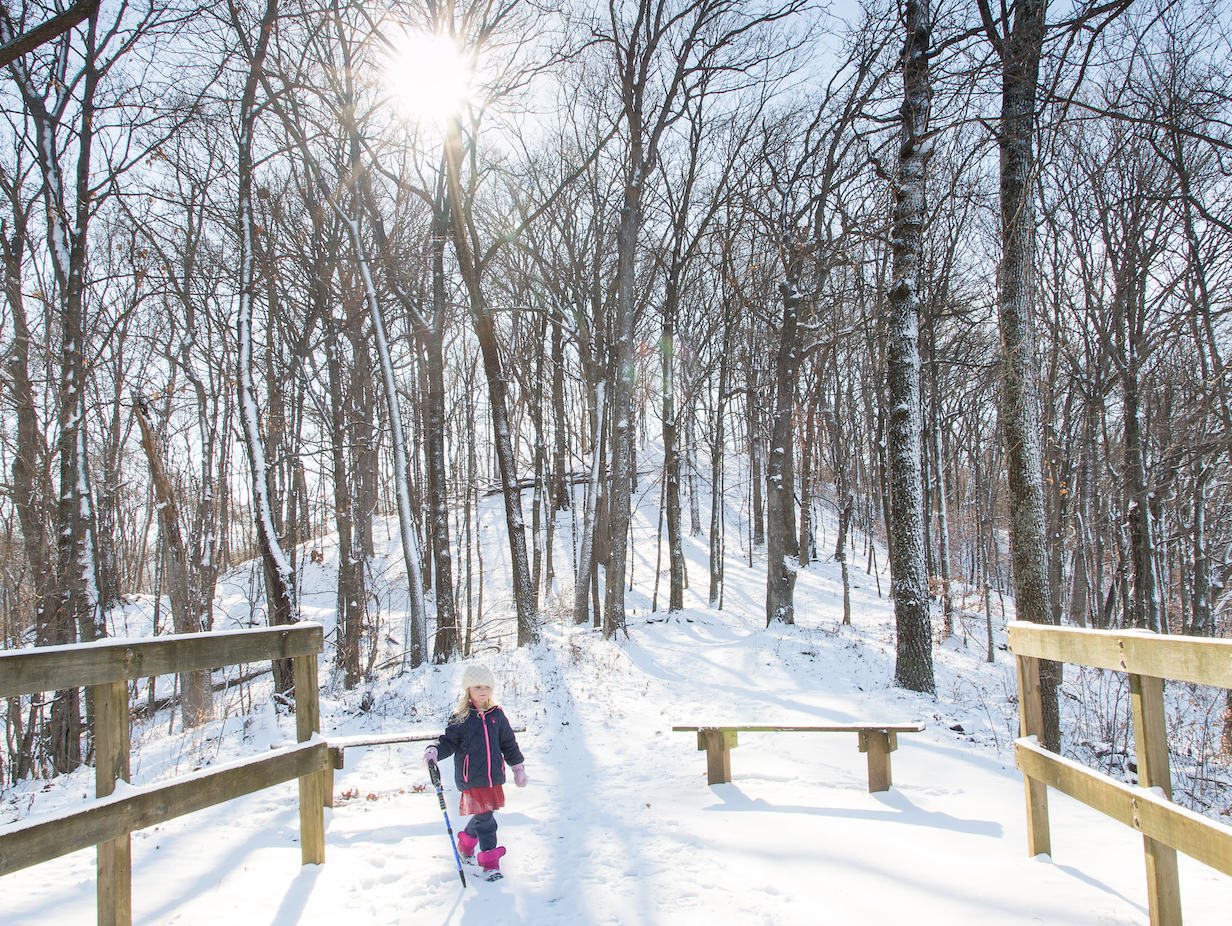 The phrase Snow Bird takes on a new meaning in southwest Illinois each winter.
Hundreds of American Bald Eagles take a vacation from their frigid winter homes in the northern U.S. and head to the Great Rivers & Routes region of southwest Illinois to bask in the relatively warmer winter weather and feast on great fishing around the confluence of the Mississippi, Illinois and Missouri rivers from early January through early March. Arriving eagles mean only one thing – Eagle Season is here!
The fun begins the first Saturday in January when Eagle Season kicks off with the Eagle Ice Festival held in the historic Mississippi River town of Alton, IL. This free, family-friendly event showcases the nation's national bird with a variety of events including live ice carvings, an up-close-and-personal eagle meet and greet activity, roasting s'mores over a firepit and sampling a signature Eagle Fest craft beer. An eagle watching shuttle tour is also available for an insider's look at top spots to view American Bald Eagles in the wild.  (Tickets are required for the shuttle tour and can be purchased at www.riversandroutes.com)  A series of family-friendly activities are also held at the nearby Audubon Center at Riverlands and the National Great Rivers Museum and Melvin Price Locks and Dam during Eagle Fest.
Eagle watching shuttle tours
Throughout the months of January and February, be sure to purchase tickets eagle watching shuttle tours for the opportunity to see eagles in their natural habitat. The tours are led by knowledgeable guides and focus on experiencing eagle watching hotspots. Tours are held each Saturday of the month. Tickets are available at: www.riversandroutes.com
Looking for a more immersive experience? Be sure to take part in the free live bald eagle meet and greet events held on alternating Saturdays in Alton and Grafton in January. Spend four hours with Liberty, the eagle representative from World Bird Sanctuary, during these interactive meet ups.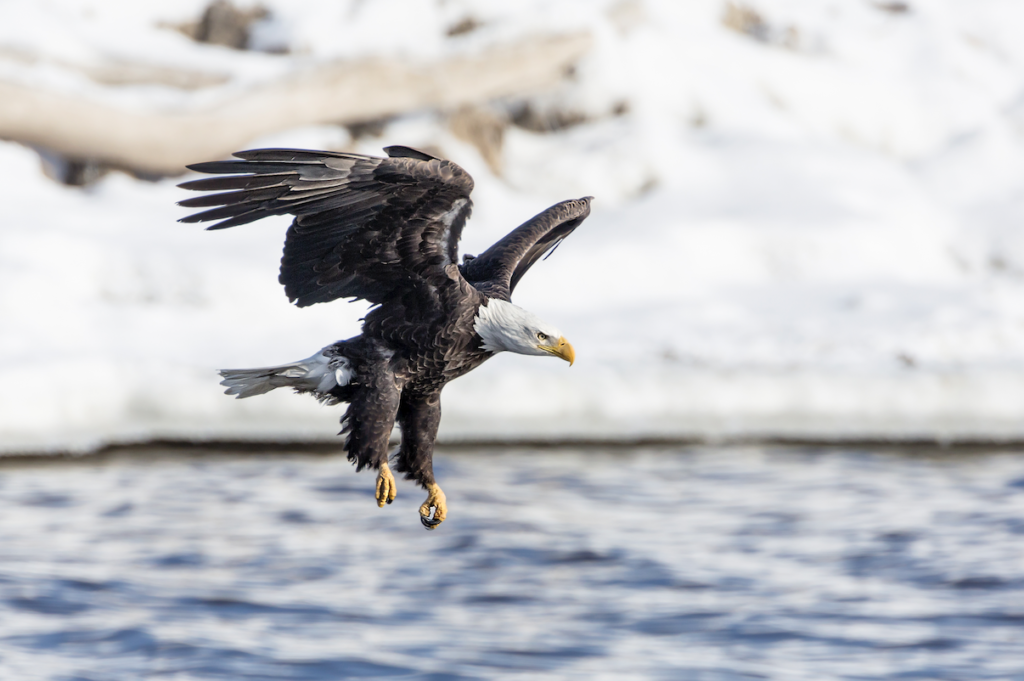 Bald eagles aren't the only birds that make the region their winter home. Thousands of Trumpeter Swans, the largest water fowl in the U.S., flock to the waters of the Mississippi River each winter. The Audubon Center at Riverlands, located on the banks of the Mighty Mississippi, is the ideal spot to view wintering eagles and swans from the comfort of the indoor center itself where spotting scopes are available for a birds-eye view of wintering birds.
Winter fun doesn't end with the birds, though. The National Great Rivers Museum hosts its annual Ice Jam at the Dam on Feb. 18. This winter-themed outdoor festival promotes winter recreation and celebrates all things icy along the Mississippi River.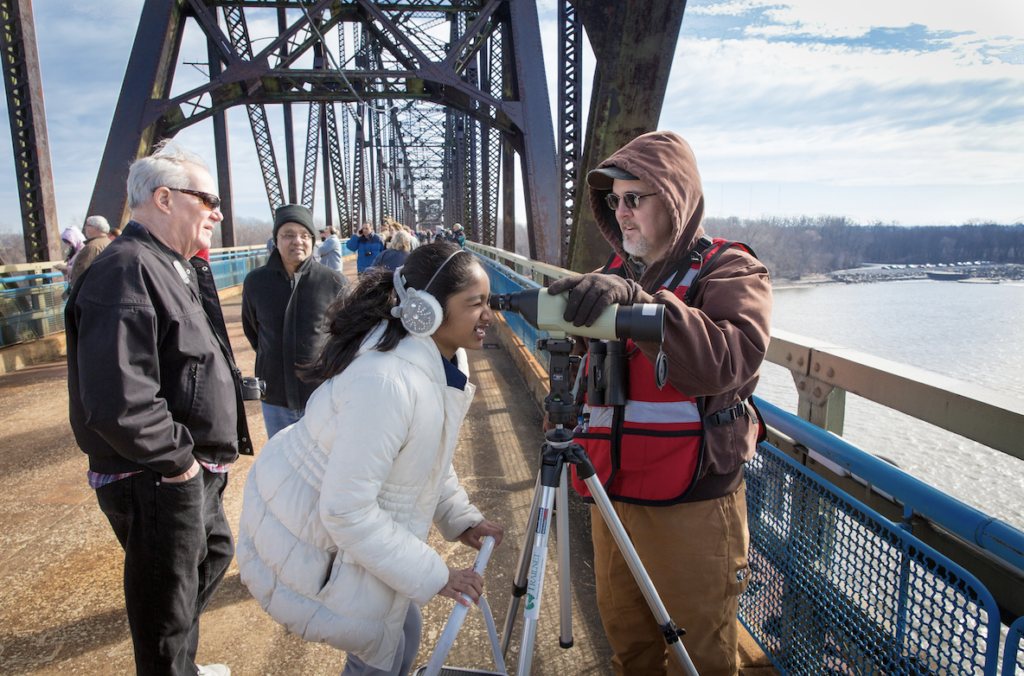 Take an eagle-eyed adventure to the only place in America where the Mother Road of Route 66 meets the Great River Road and discover adventure around every turn. For more information about Eagle Season, eagle watching shuttle tours and winter events, please visit: www.riversandroutes.com