Great Rivers & Routes, IL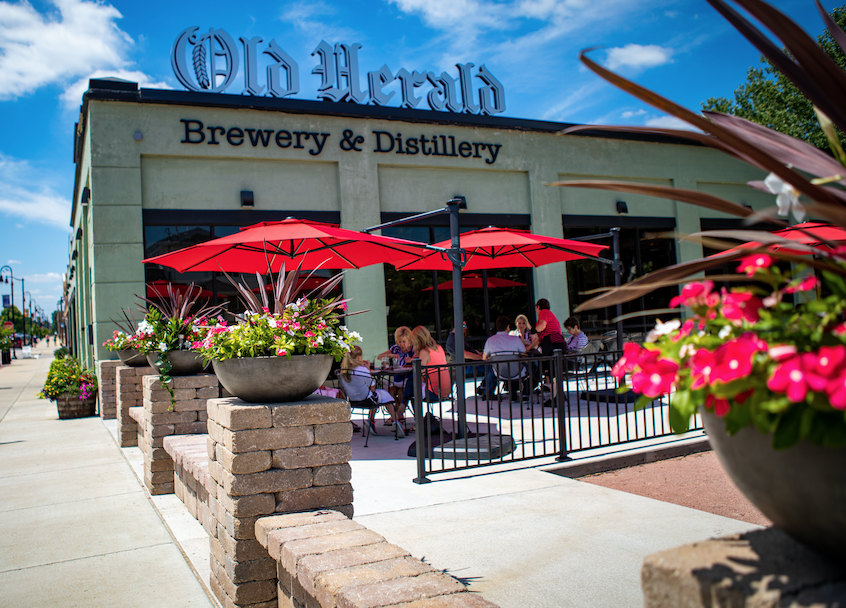 Kick back and relax this fall along the mighty rivers and timeless roadways in southwest Illinois. And sipping on a local craft beer or wine makes the moments even better.
The six-county region, located just outside St. Louis in Illinois, is full of local craft brewers, distillers and wine makers who have honed their crafts alongside the Mississippi River, the famed American Bottoms and sweeping prairies that make the Great Rivers & Routes region of southwest Illinois the perfect place to sit back and savor the seasons.
Stunning fall colors are the back drop for local wineries in southwest Illinois. Sip on a glass of wine produced by Grafton Winery – The Vineyards, nestled on the Illinois prairie just outside the historic river town of Grafton, while relaxing beside the scenic vineyards and lake. Indoor fireplaces and outdoor firepits provide an extra touch of comfort during cool fall days and evenings. A visit to Pere Marquette Lodge and Conference Center, part of Illinois' largest state park which sits alongside the Illinois River, also includes the opportunity to sample Illinois produced wines from the Mary Michelle Winery.
Local winemakers and wineries are part of the scenic landscape in Maryville, home to Bella Vista Winery, and the small community of Witt, where Half Witt Winery can be found. The Wild Pickins Winery in Chesterfield features homegrown wines in addition to live music, occasional weekend festivals and good times. Staunton is home to The Winery at Shale Lake where you can enjoy their signature wines year-round in the heated wine garden which overlooks the 14-acre vineyard. For the 'Best Views in the Midwest' head to The Winery at Aerie's Resort in Grafton for private label wine and amazing views.
What could be better during a Fall weekend getaway than enjoying a craft brew. The Great Rivers & Routes region is home to nine breweries and distilleries. Raise a glass of Printer's Ink – a beer, not really ink – at Old Herald Brewery & Distillery in Collinsville. The three-year-old brewery is housed in a former newspaper print shop and proudly honors that spirit with its craft beers fittingly named 'Sports Page', 'Weekend Edition' and more. While at Old Herald take a sip of barrel aged whiskeys, gins and a horseradish flavored vodka distilled on site.
Head to Alton and Old Bakery Beer Company and enjoy a craft beer, brewed by this certified organic craft brewery located near the banks of the Mighty Mississippi River. In addition to the lineup of organic beers, which rotate seasonally, the brewery is home to a restaurant with sandwiches, salads and appetizers designed to pair well with beer and highlight local produce. The City of Edwardsville is home to two craft breweries – Peel Brewing Company and Recess Brewing. Peel craft brews are known for their bold taste and special releases which pair beautifully with the Peel restaurant signature pizzas. Recess Brewing, located in the historic downtown district of Edwardsville, serves up local brews on tap in a cozy taproom. Bring a friend, two or four-legged, for a great relaxing afternoon. Hillsboro is home to Opera House Brewing Company, housed in the historic old city opera house. Enjoy a signature craft brew, IPA, cider or cocktail during a weekend getaway.
For vodka enthusiasts, the region is home to two nationally-recognized distilleries. Get an up close and in person look at how vodka is made at Bluestem Vodka Distillery in Bethalto. This boutique distillery has a tasting room and offers a birds-eye view of the distilling process. Pontoon Beach is home to Mastermind Vodka. Distillery tours and tastings are available.
Experience Fall in southwest Illinois where scenic meets crafty brews and the result is a time to remember.