Wild Country in the heart of Louisiana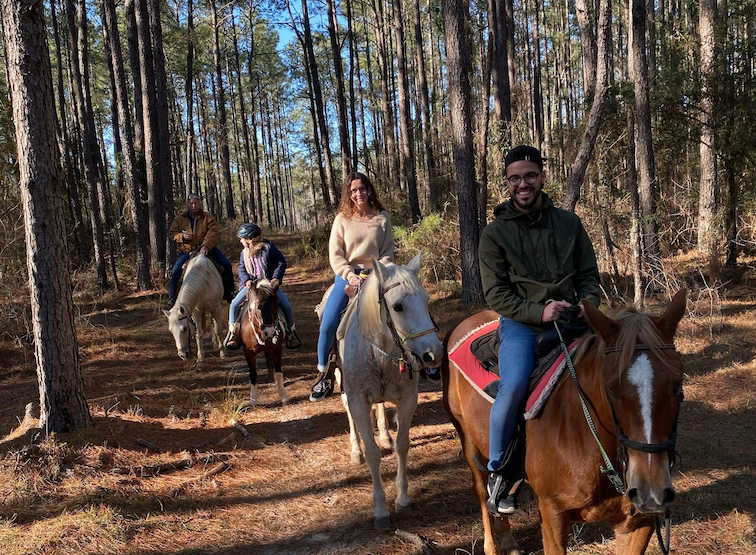 The heart of Louisiana offers some of the most incredible natural wonders in the south. If you're looking to venture off the beaten path, you'll be surprised by the meandering waterways and old farmhouses, winding back roads surrounded by tall, majestic pine trees that whisper in the breeze. In central Louisiana, living life off the land is still evident and outdoor adventure reigns supreme. Whether you're an epic adventurer, or just "outdoorsy", a lot of what central Louisiana has to offer doesn't even require you to be athletic to participate. There are plenty of things pretty much anyone can do (and love) outdoors.
In the forested piney hills and hardwood bottoms of central Louisiana lies Kisatchie National Forest. It is one of the largest pieces of natural landscape in Louisiana and the only national forest in the state, with some 604,000 acres of public land, more than half of which is vital longleaf pine and flatwoods vegetation supporting rare plant and animal species.
The heart of Louisiana
While not often properly recognized for its trails, Kisatchie offers some of the most diverse landscapes in the country with breathtaking views sure to blow you away. The Wild Azalea Trail is located in the Kisatchie National Forest, Evangeline Unit of the Calcasieu Ranger District and has been designated a National Recreation Trail because of the outstanding scenic values gracing the path including lazy creeks, longleaf pines, and the trail's breathtaking namesake azalea blooms. Here, rolling hills define the terrain, with small creeks in each fold that are full of clear water. The best time to hike is in spring when hunting seasons are closed and the trail's namesake azalea flowers are in full bloom. Go in early spring to see the wild azaleas at the Castor Creek Scenic Area, there aren't many crowds and the blooming flowers decorate the hollows between the hills.
The Wild Azalea trail offers more ambitious hikers a chance to test out their backpacking skills on the longest path in the state. Totaling twenty-eight miles one-way, the trail is often completed as an out-and-back to a total of fifty-six miles. At that distance, it's best to take an entire weekend or even three days to complete the trail. In addition to designated camping spots, dispersed camping is allowed in the forest at least thirty feet away from the trail.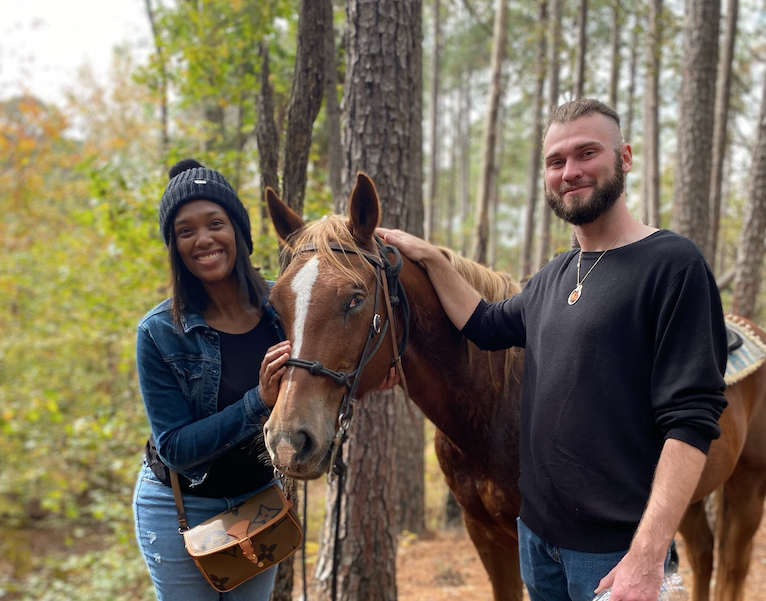 Within Kisatchie National Forest, explore scenic areas ideal for bird watching, photography, backpacking, canoeing, all-terrain vehicle trails, boating, camping, cycling, fishing, picnicking, and swimming. The forest has more than 40 developed recreation sites including Valentine Lake, home of the Wild Azalea Trailhead, and Kincaid Lake Campground- a modern, forested paradise, complete with a fishing pier, swimming, area, and boat launch with over 100 miles of trails for hiking, mountain biking, and horseback riding. 
Hayes E Daze
Hayes E Daze offers great trail horses and guided rides for all levels to explore the beautiful wooded trails of Kisatchie. With gentle horses and experienced guides, Hayes E Daze is ideal for day-trippers and families. Guests can choose between relaxing, easy-riding trails or more adventurous trails for experienced riders.
There are countless places to camp and horseback ride in Louisiana, but none are as unique as Rustic Sky Horse Camp. You'll find Rustic Sky Horse Camp nestled within the Kisatchie National Forest in the tiny town of Melder, which is just a bit southwest of Alexandria. The 30-acre ranch has had many names and owners over the years, each adding their touches and improvements to the property including an old western-style saloon, obstacle course, pavilion, 51 Campsites, RV hookups, rental cabins, and a swimming pool. You'll get the most out of your stay if you bring your horses along for the adventure.
Read Also: Head for the Hills of Shawnee Forest Country – in Southernmost Illinois
The camp features 112 horse stalls, 15 turnouts, multiple wash bays, round pens, and plenty of pastures and trails to explore. Don't have horses to bring along? There is still plenty to see, do and explore around the camp, so don't let that keep you from visiting! 
In the evening, trade in those cowboy boots for dancing shoes and get ready to fais-do-do – the Rustic Sky Saloon offers karaoke, music, and dancing every Saturday evening. Guests are invited to bring their own instruments and join in on the fun! With so much to explore, you'll want to stay awhile. Plan your trip to The heart of Louisiana "best adventure ever" today! To get started, visit alexandriapinevillela.com.