Located in the middle of the U.S. and Oklahoma, Norman is the home of The University of Oklahoma. Norman is just 20 minutes from Oklahoma City's Will Rogers World Airport and a few miles south of the intersection of Interstates 35, 40 and 44.
Norman Must-Dos include world-class museums, Fred Jones Jr. Museum of Art and the Sam Noble Oklahoma Museum of Natural History along with the National Weather Center and the National Weather Museum and Science Center.
No need to go to Paris, the art museum contains the largest collection of Impressionist paintings at a public university with works by Van Gogh, Renoir, Degas, Monet and others. First Lady Michelle Obama presented the Sam Noble Museum with the prestigious Institute of Library and Museum Science's top honor in 2014. 
National Weather Center
The National Weather Center, home to the National Severe Storm Laboratory and Storm Prediction Center where every severe storm watch and warning originates, is located in Norman and provides tours on Monday, Wednesday and Friday afternoons (reserve space two weeks ahead of time). It's the permanent home of the "Dorothy" and "Toto" props from the movie Twister.
Recently opened in 2016, the National Weather Museum and Science Center is currently open on Thursdays, Fridays and Saturdays in North Norman and provides a hands-on educational experience.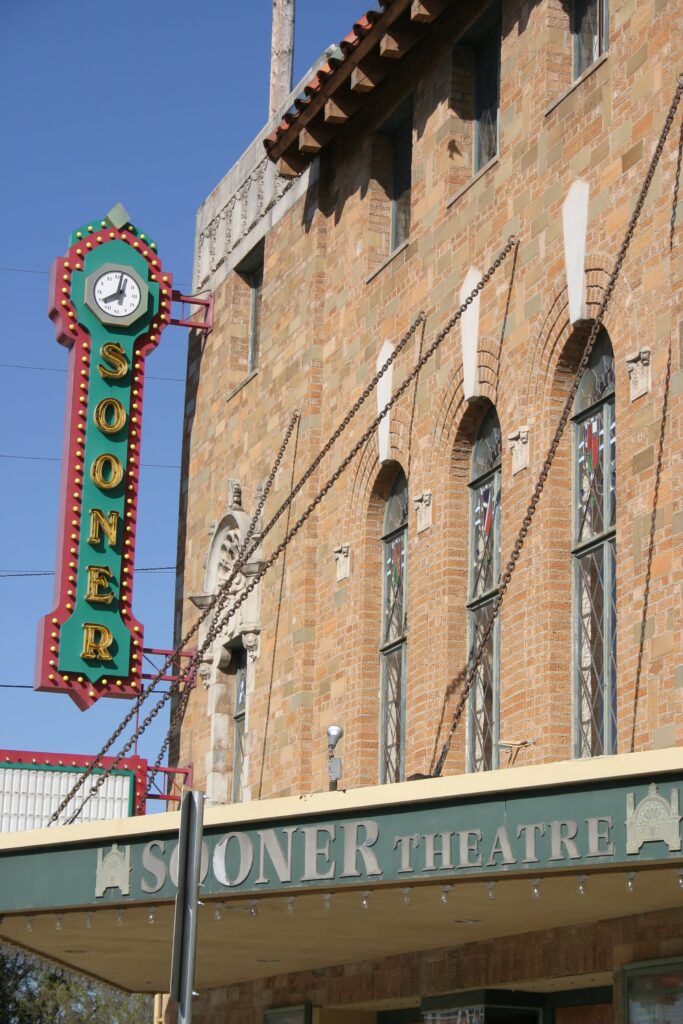 For sports fans, a stroll through the Switzer Center is a can't-miss opportunity. With complimentary admission and open from 9 a.m. to 5 p.m. weekdays, checking out the national championship, Heisman and Big XII trophies along with other memorabilia is a remarkable walk through college football history. The four 100-plus-win coaches have statues outside the Switzer Center and five statues of Heisman Trophy winners are located close to the entrance with another two statues of recent winners Baker Mayfield and Kyler Murray that will soon be unveiled.
Historic Downtown
Historic Downtown Norman is home to the Walker Arts District which hosts 2nd Friday Art Walk every month. Strolling Main Street during 2nd Friday means live music, gallery showings and more. Also, Legacy Trail provides a chance to learn Norman history on a self-guided walking tour along James Garner Avenue. Film star Garner grew up in Norman and a statue of him is located in Historic Downtown Norman facing The Sooner Theatre.
Eating local is a favorite past time and there are dozens of Norman Original restaurants to ensure a unique culinary experience. From the historic in the Downtown area at The Diner, twice featured on The Food Network, and Midway Deli where you might catch a glimpse of NCAA and Super Bowl Championship-winning Coach Barry Switzer, to the new, trendy Campus Corner spots like Volare and The Porch, you will dine like a local. No trip to Norman could be complete without a visit to Classic 50's Drive-In on Lindsey Street to try out an Eskimo Frosty, Sprittle or even a Cherry Limeade Slush.
Read Also: Martinsburg-Berkeley, WV
Campus Corner, Downtown Norman, The Main District, University North Park, Sooner Mall, Brookhaven Village and West Lindsey Street all contain some of the region's best shopping.
City of Festivals
Norman is also known as a city of festivals so plan your visit around one of the annual events. Spring events include the Medieval Fair and Norman Music Festival while the summer presents Jazz in June, Summer Breeze Concert Series and Porchfest with the Aviation Festival, National Weather Festival, Farm Girl Fair, Norman Christmas Holiday Parade, Chocolate Festival and Mardi Gras Parade rounding out the calendar.
Find out more and plan your trip at VisitNorman.com.