15 Can't-Miss Things to Do in the Cincinnati Region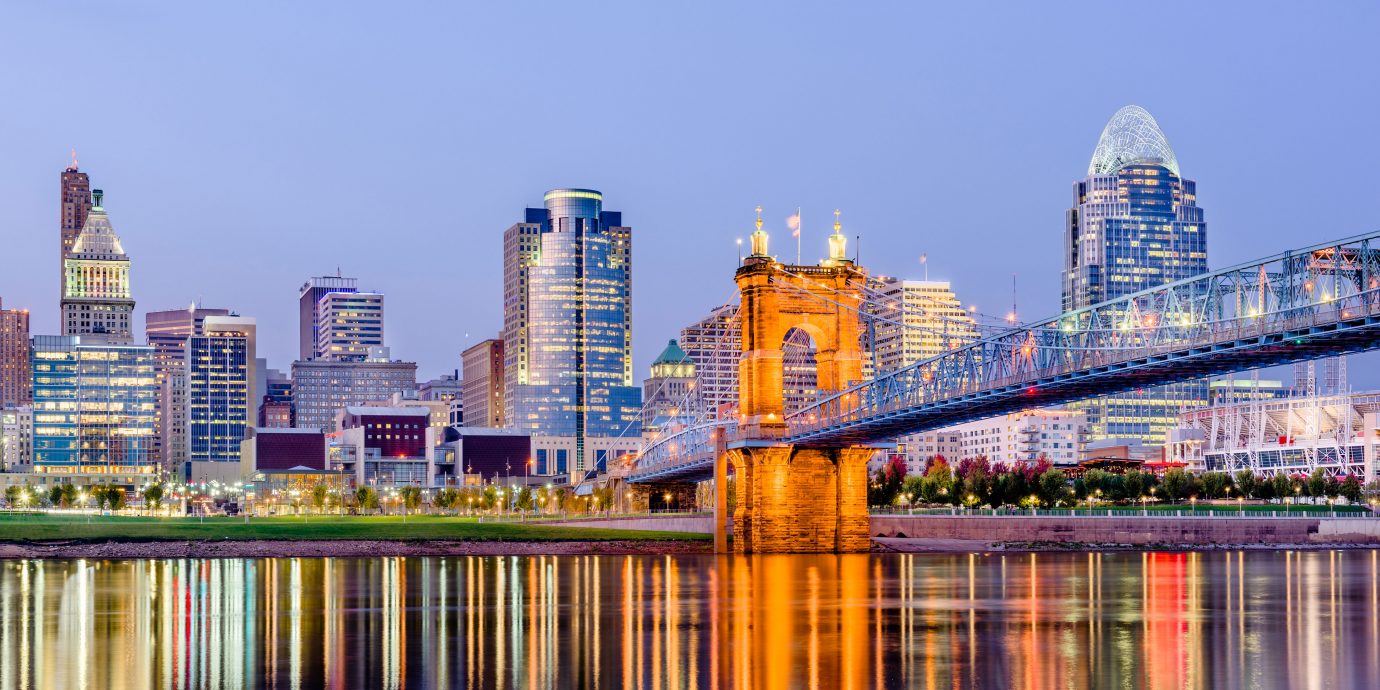 From traditions of yore to fun new attractions, you've got to try these on your next visit to the Cincinnati region.
With major league sports, big-city arts, fun festivals and award-winning attractions, it can be hard to decide what to do in our dynamic river region! Here are 15 classic ways to have an Unmistakably Cincinnati experience during your next visit.
15 Things to Do in the Cincinnati Region
Walk across the Roebling Bridge
The John A. Roebling Suspension Bridge is an icon in the Cincinnati region. It's the prototype of New York's Brooklyn Bridge and has been dubbed "the singing bridge" due to the way car tires hum when driving across it. Pedestrian lanes make it a picturesque way to get from Cincinnati to Northern Kentucky (and vice versa) on foot. Read more about the bridge here.
Snap Instagram-worthy shots of the Cincinnati skyline from Northern Kentucky
Covington, Newport and Bellevue in Northern Kentucky all have amazing views of the Ohio River and Cincinnati skyline across the river. Go for the views and stay for lunch or dinner at neighboring restaurants. Find more spots for great views here.
Enjoy the view from the top of Carew Tower
Enjoy a breathtaking 360-degree view of the region from 49 stories atop the Art Deco Carew Tower observation deck.
Play "Heart and Soul" on the foot piano at Smale Riverfront Park
Kids and adults will enjoy pouncing on the giant foot piano at the popular Smale Riverfront Park. Plus, there's a carousel, slides, rock climbing wall, porch swings and so much more to explore while at the downtown park. Click here to explore more at the park.
Run through the interactive fountains at Washington Park
Enjoy a fun – and free! – way to cool off during hot summer months at the Washington Park fountains. Kids will squeal in delight as the water jets up to drench them. Plus, the park offers free music, festivals, and other events all year long.
Cheer on America's first baseball team at a Reds game
Attending a Cincinnati Reds game at Great American Ball Park is about more than just watching baseball. It's about a tradition that dates back to 1869 when the Cincinnati Redlegs became America's first professional baseball team. Be a part of the tradition when you bring the family to enjoy America's favorite pastime. Get 1/2 price tickets when you book a hotel stay!
Eat a cheese coney
Cincinnati-style chili is a way of life for locals. Whether you pour it over a hot dog for a coney or over spaghetti for a 3-way, you've got to try this regional favorite during your next visit. Find chili parlors here.
Drink locally-made bourbon in Northern Kentucky
Tour The B-Line and enjoy a sip at bourbon distilleries and bourbon bars like New Riff Distilling, the northernmost stop on the Kentucky Bourbon Trail Craft Tour; Boone County Distilling, which makes authentic bourbon whiskey in the northern hills of Kentucky; and Old Kentucky Bourbon Bar, home to more than 300 domestic bourbons and whiskeys to choose from. Find a list of distilleries here.
Drink a locally-crafted beer at the oldest bar in Cincinnati, Arnold's Bar & Grill
Arnold's opened as a saloon more than 150 years ago and survived Prohibition by adding a kitchen to convert the saloon to a cafe. These days, the bar & grill is known for its local selection of craft beer, good food and popular courtyard for outdoor dining.
Touch a shark at the Newport Aquarium
Touch a shark. Or a stingray. Visit with seahorses. Or walk across the Shark Bridge suspended over the Surrounded by Sharks exhibit. Kids and adults will be amazed at all the sea life on view at the Newport Aquarium.
Ride the Beast at Kings Island
Riding the world's longest wooden roller coaster is a rite of passage! And if you like those Kings Island thrills, try the record-breaking Banshee (the world's longest inverted roller coaster) or Mystic Timbers, a 3,200-foot-long wooden coaster that weaves through the forest on the edge of the park and boasts 16 airtime hills.
Feed a giraffe at the Cincinnati Zoo
You can feed a giraffe at Giraffe Ridge, go eye-to-eye with hippos at Hippo Cove, take a train ride, spin on the carousel and so much more at the Cincinnati Zoo & Botanical Garden, open year-round.
Shop at Findlay Market
Historic Findlay Market in Over-the-Rhine is the perfect spot for families and couples to relax for a casual lunch, purchase fresh locally-sourced food, sip a craft beer in the biergarden, or enjoy a scoop of Dojo Gelato. Click here to find out how to shop like a pro at Findlay Market.
Enjoy a black raspberry chip ice-cream cone from Graeter's
It's hard to resist a scoop of creamy French-pot ice cream with huge chunks of chocolate chips. Black Raspberry Chip is a favorite at Graeter's, but don't miss the chance to try their seasonal flavors, too. Oh, and we also recommend the donuts.
Watch the Carroll chimes at Goebel Park in MainStrasse Village
The Carroll Chimes Bell Tower in Goebel Park is a popular German-style landmark in Covington, Ky. The 100-foot tower houses a 43-bell carillon and glockenspiel that chime on the hour while mechanical figures act out the story of the Pied Piper of Hamelin; a beautiful photo opp and testament to the neighborhood's German heritage.