Elkhart Lake, WI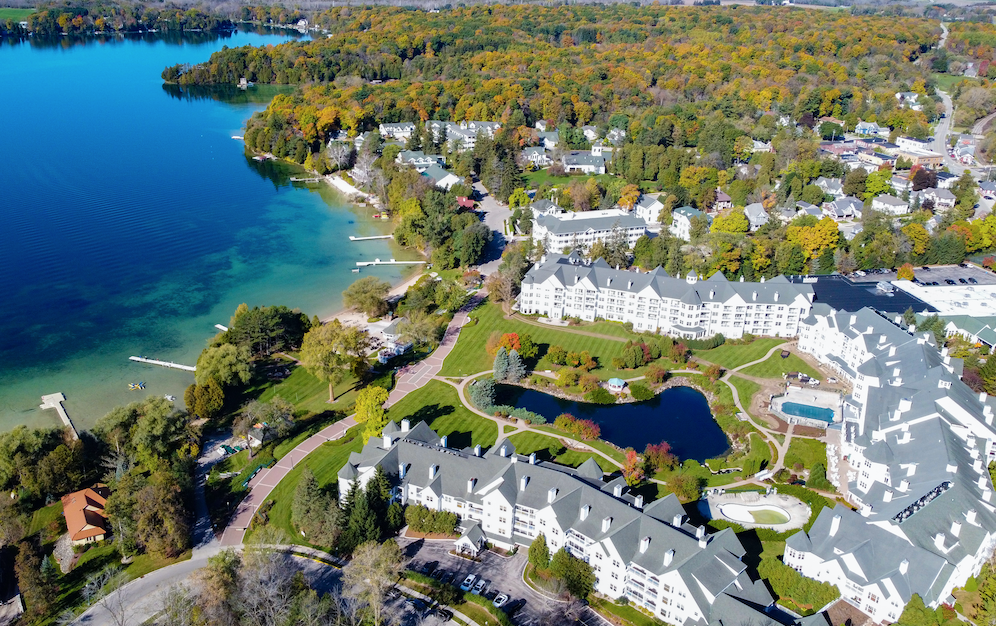 Discover the magic of a lakeside getaway to Elkhart Lake, Wisconsin this fall! Be prepared to be awed by the brilliant hues of autumn colors encircling the Mediterranean-blue waters while escaping the hustle and bustle of city-life in this safe and walkable village. With a population of under 1,000 residents, Elkhart Lake is honored to be a getaway locale visitors choose to return to year after year with its genuine Midwest hospitality and welcoming spirit. It is sure to be a trip you will never forget.
The serene setting and pristine waters of this lakeside resort village are the perfect backdrop to reflect on the changing season of fall.  You can find a new adventure behind every leaf from hiking and biking the nearby Ice Age Trail, hitting the links at Quit Qui Oc Golf Course, or taking a scenic drive through the rolling hills of the Kettle Moraine State Forest.  At 119' feet deep, the crystal-clear spring fed waters of Elkhart Lake still beckon lake lovers well into the fall season.  Paddle the waters that mirror the colorful canopies of crimsons, oranges, and golds or silently observe the schools of fish scurrying along the sandy bottom while sipping your morning coffee.  Cocktail sunset cruises are also a popular way to experience these calming, beautiful lake waters.
Ice Age National Scenic Trail
Outdoor lovers will delight with each crunch of fallen leaves beneath their feet in this adventurer's paradise. Highlights include the aforementioned Ice Age National Scenic Trail, a 1,000-mile footpath tracing the sweeping glacial landscape, and the 250-acre Quit Qui Oc Golf Course features a 27-hole course and is one of Sheboygan County's special course gems for golf enthusiasts.
After exploring the beautiful vistas and scenery of Elkhart Lake, you are sure to have built up quite an appetite.  Not to fear, as the area features some incredible culinary options to delight your taste buds.  You will experience authentic seasonal menus, extensive wine lists and beer tastings too.  Savor the flavors of the season with farm-to-table cuisine and alfresco dining at local establishments like the Paddock Club serving up both quality interpretations of classic dishes and daring new ventures into the uncharted territories of food.
Explore the extensive wine lists and local brews paying homage to this quaint resort village with fitting names like Resorter Red and Pontoon Pounder.  And you just can't miss a stop at Gessert's Ice Cream and Confectionary, which has been around since the 1920s!  Stop in for a true old-fashioned ice cream experience you will not forget – featuring over 24 flavors of hand packed ice cream, a soda fountain, homemade fudge, candy and more!
Beautiful Lakeside Resorts
Visiting Elkhart Lake is perfect for any budget, with lots of options for places to stay, from beautiful lakeside resorts to vacation rentals, there is something for everyone.  Autumn is truly the perfect time to escape and relax in the comfort a beautifully appointed resort like The Shore Club Wisconsin, Siebkens Resort of The Osthoff Resort, which was voted among the Top Resorts in the Midwest by Condé Nast.  The Osthoff Resort is a AAA Four Diamond premier vacation destination and features 245 spacious suites, each featuring a kitchen, dining and living room, TV, fireplace and private balcony.  While enjoying your stay, consider pampering yourself at the award winning Aspira Spa, nestled among the surrounding cedar trees and the waters of Lake Elkhart, which provides a holistic approach to your customized spa experience. 
So, Your fall getaway is waiting for you!  If you are ready to embrace a slower pace, come visit Elkhart Lake and let the welcoming spirit of this little village take hold.