Follow the Roanoke River for an inspired weekend getaway!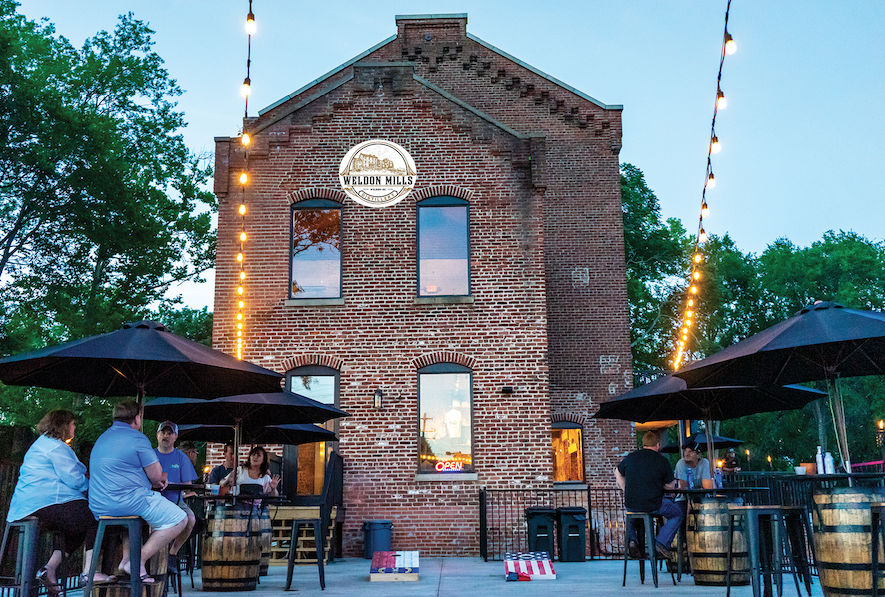 HALIFAX COUNTY, North Carolina
Go "behind the barrel" and learn about the distilling process. Enjoy new and creative
spirits on the banks of the Roanoke River.
Start in Weldon, NC
North Carolina's new distillery, Weldon Mills Distillery, is pouring spirits on the banks of the Roanoke River. The vision of Bruce Tyler and Michael Hinderliter, their idea is to make "booze with cause." Weldon Mills will produce two lines of bourbon with one dedicated to raising money for the families of fallen soldiers, and the other will be a Premium Reserve Bourbon. The Mill will offer a regular whiskey and two flavored whiskeys, one with sweet potato and the other caramel green apple. Vodka and gin will also be produced including the first rhubarb gin in the US.
Riverside Mill combines an antique mall and artisan's gallery in a historic cotton mill on the banks of the Roanoke River. Scenic river overlooks, antiques, estate jewelry, silver, furniture and collectibles give shoppers and visitors a unique experience. American Craft, including pottery, glass, jewelry, metal and wood, represent the best in national, regional and local American Craft with a strong emphasis on North Carolina artists.
If you are looking for the best in Eastern NC barbecue, look no further than Ralph's BBQ in Weldon. Owned and operated by the Woodruff family for more than 60 years, Ralph's offers a full buffet of home cookin' like chopped, minced and sliced barbecue with a spicy vinegar-based sauce, fried chicken, Brunswick stew, hushpuppies, banana pudding, collards, potatoes and more!
Continue your journey to Halifax, NC
The Hen & The Hog is proud to call Historic Halifax, NC home. Patterson Wilson, a Halifax native, returned home bringing her background and career in design to reimagine the use of the town's circa 1900's commercial buildings. Halifax Studios is a creative workshop for area artists to teach and share their craft with the community. Bass House is a charming multi merchant shop full of unique gifts for tourists and locals. Recently opened Big Game Brewing, a brew house featuring North Carolina craft made beer, while Halifax Cottage has become a thriving Airbnb. The Hen & The Hog serves great food in a great atmosphere which has brought prosperity to the downtown.
Big Game Brewing is passionate about craft beer and the great outdoors. At Big Game Brewing they are always on the hunt for another great craft beer along with the next great outdoor adventure. So if you are on the hunt too, come join them at their beer lodge, have a pint with the locals. And tell them a story about one of your great adventures.
End your day in Roanoke Rapids, NC
Roanoke Canal Museum is called "North Carolina's longest museum." Enjoy the two-level, interactive museum that utilizes traditional and interactive exhibits to explain how the original canal was built and turned the Roanoke River into a superhighway of commerce during the early 19th century. Oscar's Restaurant was established in 1953 in Roanoke Rapids, NC. Built on the west side of Roanoke Rapids, in what used to be the town's industrial area. Oscar's features a busy breakfast, lunch, and dinner. They serve great food, offer great service, along with the old town southern experience in dining.
Read Also: Visit Music City's THE FOODIE TRACK
Rivertown Consignments Rivertown is where high-end and vintage tastes meet at the crossroads. The shop is the perfect solution for people with a wide array of budgets. But unfulfilled desires for high-end home furnishings, home decor, antiques and collectibles. Their goal is to offer refined and tasteful furniture, home decor and accessories. As they deliver both new and a limited inventory of upscale gently used designer styles.