Get Outdoors in Tulsa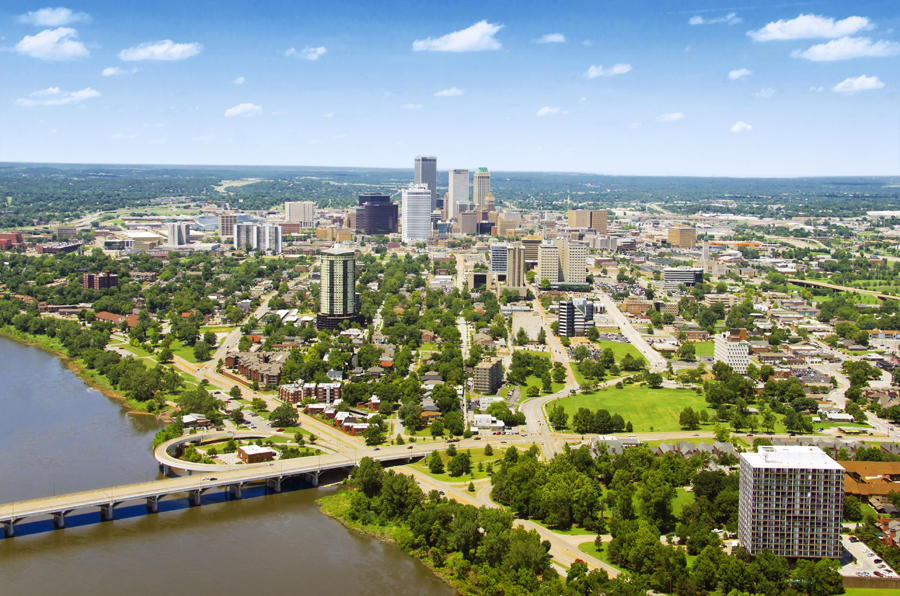 Anywhere you go in Tulsa, you are never far from outdoor leisure. If you're into "doing," then you're within minutes of 23 public golf courses, 135 tennis courts, 88 playgrounds, 50 miles of scenic biking/running trails along Tulsa River Parks, 10 disc golf courses, miles of hiking trails on Turkey Mountain, skate parks, rugby fields, soccer fields, baseball fields, and any-sport-you-can-think-of fields. If you're just into "being," the City of Tulsa manages 135 parks covering roughly 6,000 acres, with facilities that include more than 65 picnic shelters. You'll find another 750 acres at our four county parks—LaFortune, O'Brien, Haikey Creek, and Chandler Parks. Good grief, we even have leisure facilities dedicated to your canines: Joe Station on Charles Page Boulevard and Biscuit Acres in Hunter Park.
Redbud Valley Nature Preserve
The Redbud Valley Nature Preserve is a place of quiet beauty and rugged scenery. Here are plants and animals found nowhere else in northeastern Oklahoma. It is a very special habitat, preserved for all of us to enjoy. The trail will take you to some of the most interesting parts of the Preserve. The primary management focus at Redbud Valley is to preserve and protect the unique plant and animal life that is found here. The area is also used for environmental education and for public enjoyment, but only when these activities coincide with our main focus, protection. The area is open Wednesdays through Sundays from 8:00 a.m.-5:00 p.m. www.oxleynaturecenter.org/redbud-valley
Tulsa Bicycle Tours
Tulsa Bicycle Tours is owned and operated by proud Tulsans who want to tell the story of our great city from behind the handlebars of a bicycle. Each tour is led by a passionate and knowledgeable guide that will allow you to experience Tulsa from the seat of a comfortable, easy to ride, Tulsa-built bike. Tours include stops at Tulsa's most prominent neighborhoods, historic concert venues, original Route 66, Arkansas River, as well as a long look at one of the world's most extensive collections of Art Deco architecture. Want to start the tour from your office, house or hotel? Let us know and Tulsa Bicycle Tours will arrive with a well-stocked trailer full of everything you need. www.tulsabicycletours.com
Tulsa Botanic Garden is developing on 170 acres just northwest of downtown Tulsa. Explore the A.R. and Marylouise Tandy Floral Terraces. An ornamental garden featuring over 8,000 trees, shrubs, and perennials as well as one of the largest spring bulb displays in the state.
Read Also: Charlotte Breweries: The Beer Bucket List
The Children's Discovery Garden offers hands-on fun for all ages with carnivorous plants, a tree fort, insect whirligigs and the one-of-a-kind Spring Giant. Nature lovers and birders will enjoy hiking a trail through both tallgrass prairie and Cross Timbers forest. Tulsa Botanic Garden is located at 3900 Tulsa Botanic Dr., Tulsa, OK, 74127. Call or check website for hours and admission. tulsabotanic.org
Courtesy of: visittulsa.com