Experience Festivals, Feasts and Fall Foliage in Chesapeake, VA.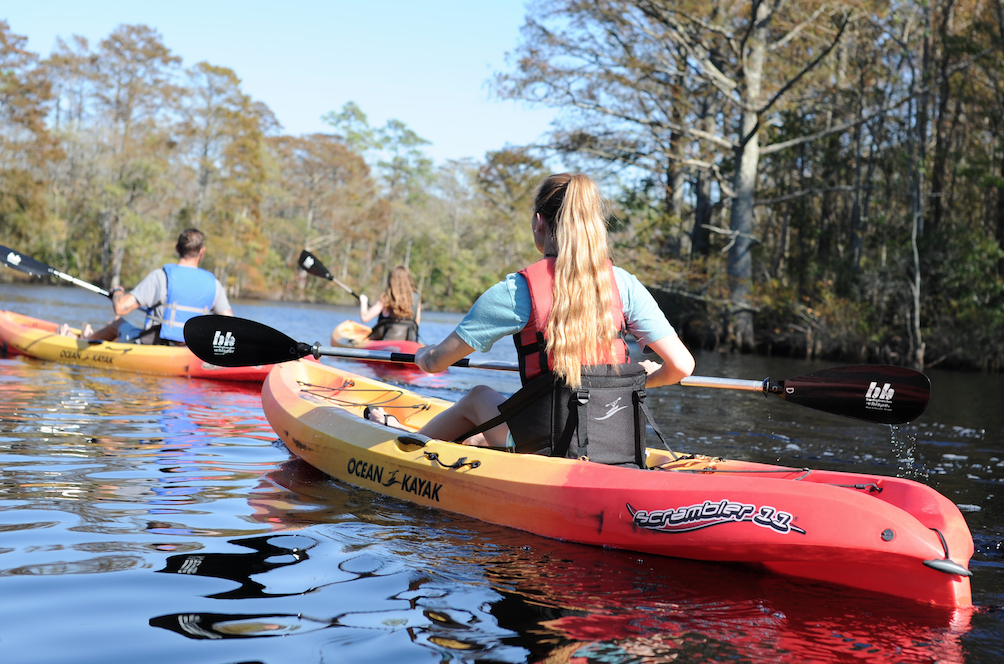 Fall is a beautiful time to visit Coastal Virginia for a getaway you'll always remember. Chesapeake, VA is home to endless outdoor activities, heavenly food, and dazzling wildlife. Situated 20 minutes from Virginia Beach, 90 minutes from Richmond and just three hours from Washington, D.C., Chesapeake's central location offers the perfect starting point for your fall getaway.
Get Your Paddle On.
See fall in all its glory on Chesapeake's miles of wonderful waterways for kayaks, SUP, and canoes. Enhance your paddling experience with our passport program, Paddle the Peake. Learn about 10 different locations to paddle, including Northwest River Park, Dismal Swamp Canal and more. Check-in and earn fun swag along the way—like dry bags, hats, and the exclusive Paddle the Peake Nalgene water bottle. Chesapeake's family-friendly waterways offer rich history and scenic views perfect for spotting wildlife.
Be sure to monitor the Fall Foliage Prediction Map to pick the perfect time to visit Chesapeake's waterways.
Local Events of a Lifetime.
Outdoor fall activities are a Chesapeake staple. A few local favorites include:
Tickets can sell out quickly, so be sure to check our site for the latest information. Is your favorite event sold out? Chesapeake restaurants offer anything you're craving, from outstanding omelets to succulent steaks. And get a taste of local flavor at Restaurant Week, October 14-21.
Charming Farms.
Fall is ripe for pumpkin picking. Chesapeake has a number of charming farms offering seasonal picking and autumn fun for the whole family, including corn mazes, tractor rides, petting zoos, fresh jams, jellies, pickles, pies, breads, other fall favorites and more.
With Chesapeake as the perfect beginning for your Coastal Virginia getaway, it's easy to explore all the region has to offer. Check out available hotel packages to plan your perfect getaway to Chesapeake this fall.