Hendersonville Offers New Ways to Enjoy the Blue Ridge Mountains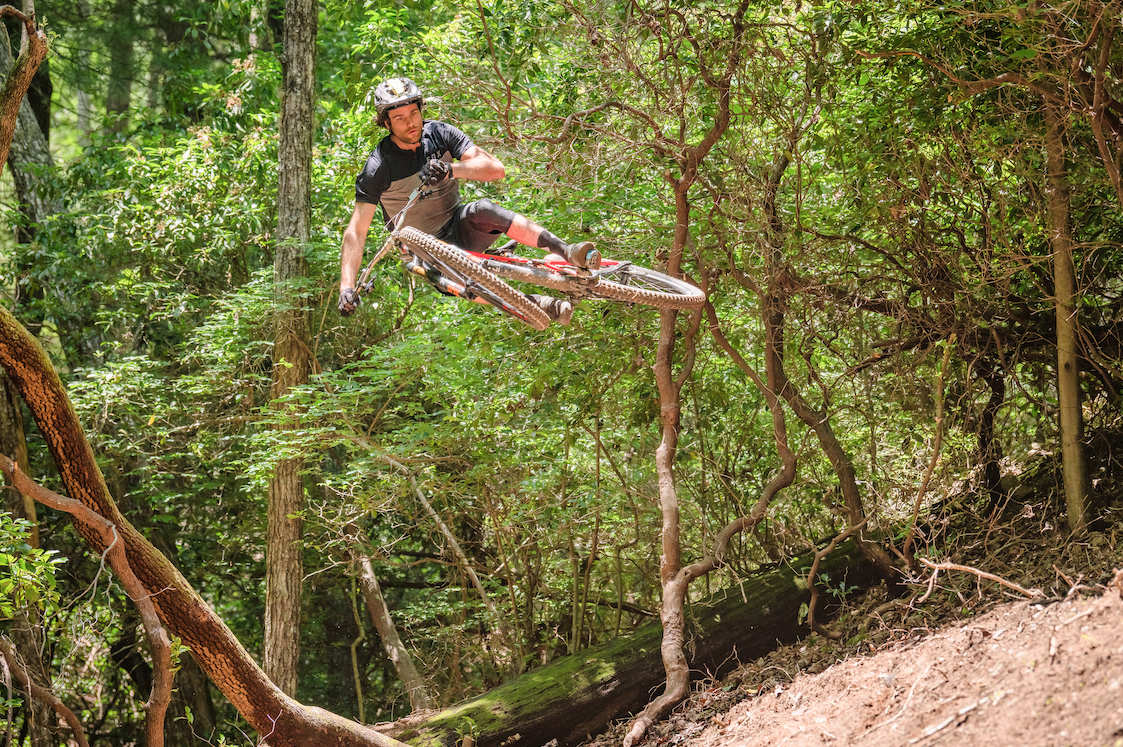 Shake the winter blues and get moving this spring with a visit to Hendersonville, North Carolina. Located in the Blue Ridge Mountains, Hendersonville is anchored by a charming downtown and surrounded by hundreds of acres of forest, trails and streams. Those wild spaces inspire visitors to try something new.
Cruise the treetops
One of the best views in the Hendersonville area zooms by as you're suspended from a zipline high above the Green River Gorge.
The Gorge Zipline is the steepest and fastest zipline experience in the country. The course begins on the edge of the gorge and then descends more than 1,100 feet. Riders soar across 11 ziplines, moving from one tree platform to the next. Along the way, they encounter three rappels and a 95-foot sky bridge.
Views throughout the course showcase 18,000 acres of protected Green River Gamelands. The surrounding forest is home to huge poplars, oaks, cucumber magnolias and maples, many of them more than 175 years old.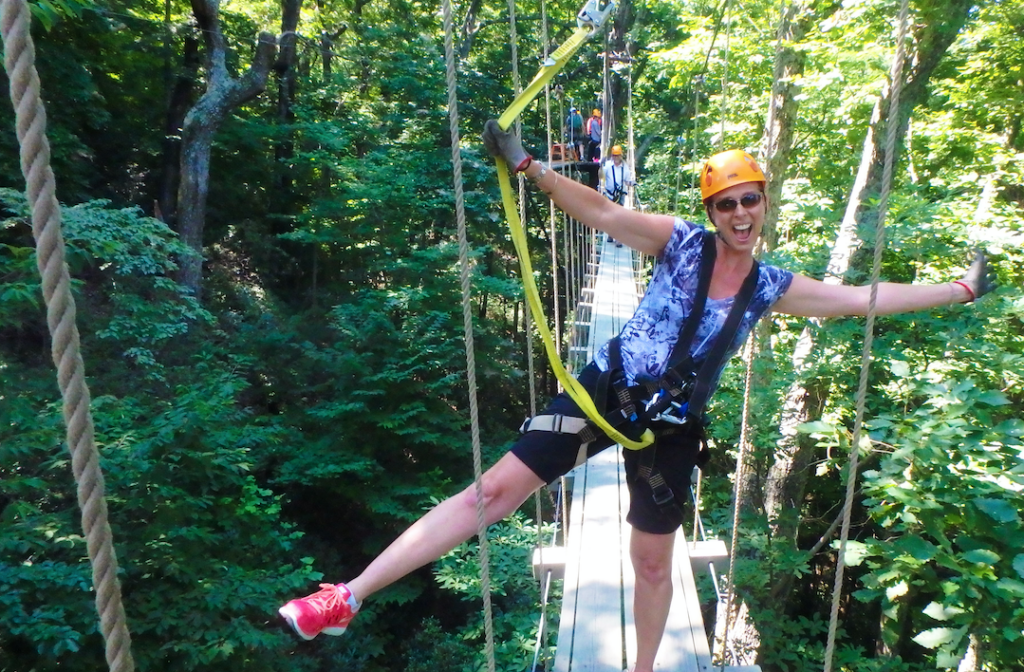 Jump and climb
The Riveter opened in early 2020 as North Carolina's first indoor climbing gym and bike park. Strap into a harness, chalk your hands and pick your path to the top along 16,000 square feet of climbing terrain. Climbers of every level will find something to challenge their abilities. A dedicated kids' climbing cove has multiple rope stations and an awesome slide.
The bike park is divided into two parts. Under the canopy, four separate lines provide terrain for all skill levels. Experienced riders practice jumps and drops, while younger riders hit the flowy pump track. Outdoors, four different lines vary in difficulty from green to double black.
The Riveter also includes a yoga studio, fitness studio, meeting space, libation station and retail shop. Visitors may bring their own climbing and biking equipment or rent it on-site.
Race downhill
Ride Kanuga is Hendersonville newest outdoor adventure attraction. Founded by world-champion downhill racer Neko Mulally, the mountain bike park features 12 downhill-specific trails suitable for all ability levels.
The park's goal is to make mountain biking accessible and fun for people of all ages and ability levels. Trails include a mix of natural features and jump lines and are specifically designed to help riders build new skills.
Located at Kanuga Camps & Conference Center, the bike park is the latest outdoor offering for visitors to the retreat center, which is located on 1,400 acres with a lake and miles of hiking trails. Trailside cabins and campsites are available as ride-in/ride-out. Riders may also opt to stay in one of Kanuga's historic guest cottages or the inn, a one-mile ride from the bike trail entrance.
Grab an ax
What do you get when you combine bowling and darts? The answer is ax throwing, and it's a new, fun ways to relieve stress and unwind with friends or family. Hendersonville natives opened Timber Axe Throwing, a hip yet low-key spot, in Hendersonville in 2019.
The sport of ax throwing requires no prior experience. Friendly, well-trained staff members provide demonstrations and teach proper technique. The goal is to hit the bull's-eye at the other end of the throwing lane, but scoring is optional. The main idea is to enjoy your time.
The facility includes a lounge area and outside deck with fire pit. Craft beer and cider from local producers complete the experience.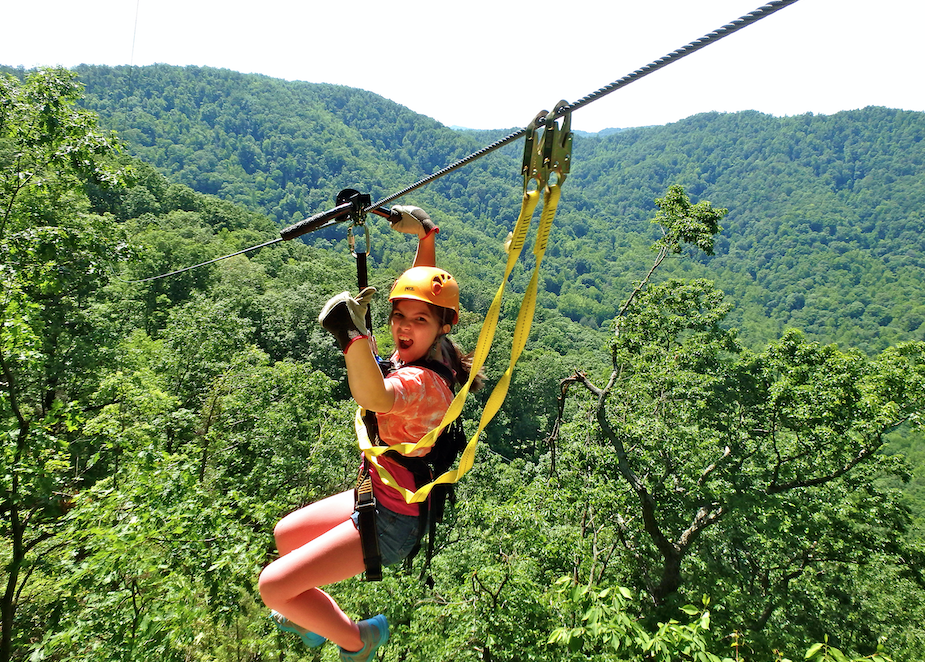 Getting here
Hendersonville is only 20 minutes from Asheville Regional Airport. By car, Hendersonville is located just off Interstate 26 between Asheville, North Carolina, and Spartanburg, South Carolina.
To learn more and request a free visitor guide, go to www.VisitHendersonvilleNC.org or call (800) 828-4244.